Them Crooked Vultures, le supergroupe du rock américain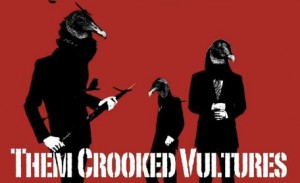 Voilà un moment que l'on avait pas parlé de « supergroupe »… Them Crooked Vultures rassemble un trio dont les membres n'ont plus leur réputation à faire : Dave Grohl (ancien batteur de Nirvana et leader des Foo Fighters), Josh Homme (guitariste de Queens of The Stone Age) et John Paul Jones (bassiste de Led Zeppelin). Chronique d'un supergroupe annoncé.

Dave Groh était sincère lorsqu'il déclarait au magazine Mojo en 2005 « Le prochain projet sur lequel je travaille me prévoit un retour à la batterie, Josh Homme à la guitare et John Paul Jones à la basse ». Quatre ans plus tard, nous voilà au coeur de l'été 2009 et le groupe vient de faire son premier concert à Chicago, le 9 août précisément. Le buzz autour de ce groupe en fait naître également les plus grandes rumeurs, notamment concernant la sortie de l'album. A priori, on table sur une sortie le 23 octobre sous le nom « Never Deserved the Future ». A prendre avec des pincettes…
Il faut dire que le groupe garde bien le secret autour de ce nouveau projet : pas de MySpace (mais le nom est là), pas de morceau sur les sites de peer to peer, peu de vidéos… A l'heure où internet nous donne l'information en quelques secondes, on irait presque à avouer que l'excitation d'antan n'en est que meilleure !
Voilà quand même de quoi réveiller nos tympans : plutôt que de poster deux vidéos de piètre qualité prises « à la volée » lors de leurs premiers concerts, voici la vidéo officielle du groupe postée sur Youtube.
Them Crooked Vultures à Rock en Seine ?
Les organisateurs restent secrets quant à l'identité du groupe surprise (dévoilé pour le moment sous le pseudonyme « Les petits pois ») qui se produira le dimanche 30 août.  Cependant, le descriptif des organisateurs du festival fait étrangement penser à Them Crooked Vultures. Jugez plutôt :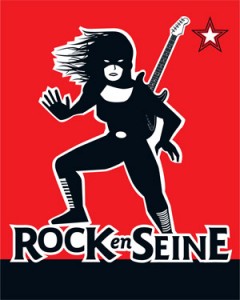 Derrière cet étrange pseudo – en français dans le texte – se cache une bande d'aventuriers, tous habitués des scènes rock internationales mais qui n'ont pas l'habitude d'y jouer ensemble.
Ce super-groupe taillé pour le live, dont l'identité devrait rester secrète jusqu'à son premier concert, fera de rares apparitions sur quelques festivals européens cet été.
Rock en Seine est l'escale française de ce projet mystérieux qui, d'après les maigres informations dont on dispose, devrait s'inscrire dans l'histoire du festival comme une énorme déflagration …
Un groupe en phase avec son temps
Them Crooked Vultures profite cependant du net de façon intelligente pour alimenter lui-même le buzz. Sur son site, le groupe a mis en place une extension Google Earth permettant de localiser le groupe dans le monde entier selon ses déplacements !
Pour tout savoir, suivez aussi le fil du groupe sur Twitter (près de 11 000 followers) et devenez fan sur Facebook ! A noter une page de fans qui semblent ne pas avoir grand chose à nous mettre sous la dent…