The Lemon Twigs – Do Hollywood – Ziggy Madonna
The Lemon Twigs est un groupe de New-York composé de deux jeunes frères de 17 et 19 ans multi-instrumentistes, et accessoirement surdoués. Ils dévoilent un premier album hautement inspiré et radicalement bien inspiré. 
The Lemon Twigs : maturité musicale
The Lemon Twigs est sans doute l'un des groupes les plus attendus avec deux morceaux balancés il y a quelques mois qui ont attiré les plus curieux, et une partie de la hype musicale. Et pour la bonne raison, car ces deux morceaux révélaient déjà une qualité d'écriture assez incroyable. D'autant plus de la part de deux très jeunes frères de 17 et 19 ans dont la maturité musicale est aussi bluffante que leur look est excentriquement rétro et leur coupe de mulet parfaitement réussie.
Bowie McCartney
Cet album est un condensé d'influences multiples, Beatles et David Bowie en tête de gondole. A l'image des albums les plus complexes de ces deux références, Do Hollywood mérite une bonne série d'écoutes avant d'être apprivoisé. Car rien n'est tracé droit ! Ce qui est aussi plaisant que déroutant. Le single These Words est un bon exemple : un début plutôt « smooth » dirons-nous avec des synthés farfelus qui virent vers une semi-ballade de McCartney au piano, avant de révéler ses choeurs glamoyants (oui c'est un mélange de glam et flaboyant. Un pléonasme donc ?), puis un passage jazzy qui fait monter la sauce en reprenant tous les ingrédients précédents. Tout ça pour offrir un final tonitruant façon Live and Let Die. Dommage que les compères se soient économisé de vraies trompettes en faveur de tristes synthés. Erreur de jeunesse dira-t-on.
Reste ensuite à trouver ses marques, parmi un Those Days Is Comin' Soon, qui débute comme une sorte de For The Benefit of Mister Kite acceléré avant de partir un peu dans tous les sens, alternant entre joyeuses parties de fanfares de cirques, et un Haroomata qui n'a rien de la ballade que l'on image avec ses incursions fanfaresques (oui, j'ai envie d'utiliser des mots bizarres).
On retrouve aussi de belles ballades comme As Long As We're Together avec ses jolis accords, sa basse très 60's avant de plonger dans un 100% Bowie période Ziggy Stardust qui peut aussi évoquer certains morceaux de Big Star.
Et l'album à peine sorti, on retrouve déjà des gens qui les reprennent sur Youtube !

Dans le genre ballade, How lucky I Am surfe autant sur les traces de Imagine que sur la première partie de Fool On The Hill de Mc Cartney ou plus récemment Tobias Jesso Jr. :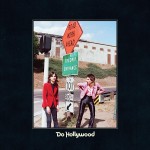 Au milieu de ces réjouissances musicales, j'aurais aimé une pochette plus graphique, plus esthétique. Car c'est bien d'un tout dont on parle. Ce ne sera évidemment pas suffisant pour passer à côté de cet album qui se termine d'ailleurs par deux titres très aboutis aux arrangements complexes et dont je doute de la capacité de retranscription correcte sur scène, un espace où l'on risque de retrouver souvent les deux frères. Parions que tous les festivals 2017 vont se les arracher. Tiens d'ailleurs, ça commence déjà avec le festival des Inrocks le 21 novembre…
Par Jérémie – Rédigé mi-octobre après de nombreuses écoutes, peu de temps s'être bien replongé dans les Beach Boys pour cette chronique sur Brian Wilson.
Ecoutes du moment : Jagwar Ma, Hookspine, Suburban Living, Aliocha.
Liens utiles pour The Lemon Twigs :
http://thelemontwigs.com
https://www.facebook.com/TheLemonTwigs
https://twitter.com/thelemontwigs
https://www.instagram.com/thelemontwigs

http://youtube.com/thelemontwigs
Pour suivre les news de rock indé, suivez Merseyside sur les réseaux sociaux :