A gagner : 5×2 places pour le film Sing Street [concours terminé]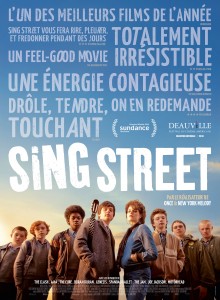 Irlande, années 80, un lycéen décide de monter un groupe de rock pour séduire la plus jolie fille du quartier… Le pitch a de quoi séduire pour un film qui a déjà conquis la critique. Merseyside et Mars Distribution vous font gagner des places !
Un film sur le rock en Irlande dans les années 80, en voilà une bonne nouvelle ! Le réalisateur John Carney était bassiste au sein du groupe The Frames dont il réalisé les clips vidéo au début des 90's. Et le voilà derrière la caméra après New York Melody en 2013.
Séduire la plus jolie fille du quartier en montant un groupe de rock
Dublin, années 80. La pop, le rock, le métal, la new wave passent en boucle sur les lecteurs K7, vibrent dans les écouteurs des walkmans et le rendez-vous hebdomadaire devant  « Top of the Pops » est incontournable.
Conor, un lycéen dont les parents sont au bord du divorce, est obligé à contrecœur de rejoindre les bancs de l'école publique dont les règles d'éducation diffèrent de celles de l'école privée qu'il avait l'habitude de fréquenter.
Il se retrouve au milieu d'élèves turbulents qui le malmènent et de professeurs exigeants qui lui font rapidement comprendre qu'en tant que petit nouveau, il va devoir filer doux. Afin de s'échapper de cet univers violent, il n'a qu'un objectif : impressionner la plus jolie fille du quartier, la mystérieuse Raphina. Il décide alors de monter un groupe et de se lancer dans la musique, univers dans lequel il ne connait rien ni personne, à part les vinyles de sa chambre d'adolescent. Afin de la conquérir,  il lui propose de jouer dans son futur clip.

5×2 places à gagner pour le film Sing Street
(Valables dans tous les cinémas de France métropolitaine diffusant le film)
Pour suivre les news de rock indé, suivez Merseyside sur les réseaux sociaux :