Strawberry Seas – 45 minutes de revival 90's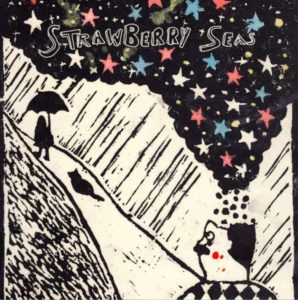 Strawberry Seas est un groupe de Tours qui vient de sortir son premier album sur l'excellent label December Square. Influencé par les Pixies et Pavement, Strawberry Seas digère pour autant à merveille les ingrédients d'un revival 90's exécuté avec brio.
Strawberry Seas | Album | December Square / Differ-ant. Sorti le 2/10/2020
Strawberry Fields & Seven Seas
Certains groupes inspirent confiance avec leur seul patronyme. Lorsque j'ai été contacté par Strawberry Seas, j'ai immédiatement pensé à Strawberry Fields de Beatles, et Seven Seas de Echo and The Bunnymen. Evidemment c'est aussi personnel que subjectif. D'autant plus que Strawberry Seas n'est ni un groupe de Liverpool (comme les deux pré-cités),  ni un groupe qui sonne comme un groupe de Liverpool. Donc tout faux Merseyside ! (tiens, ça sonne encore très Liverpool tout ça !). Quoique, sur Instant Crush, l'esprit des Bunnymen n'est vraiment pas loin !
Sans Pixies et Pavement, pas de Strawberry Seas
En réalité, les influences de Strawberry Seas sont plutôt à aller puiser de l'autre côté de l'Atlantique. Si on pense souvent à Pavement (notamment Teenage Freak), les Pixies ont aussi eu une influence essentielle sur le son de Strawberry Seas. Pas étonnant quand on sait qu'Antoine, guitariste, a entièrement réenregistré Surfer Rosa des Pixies sur son 4 pistes à 15 ans ! D'ailleurs, les chœurs de Teenage Freak laissent planer le fantôme de Kim Deal.
Et l'influence british évoquée en intro n'est également jamais très loin. Le refrain de Satellites avec son « Hello mister Spaceman are you there » sur un couplet inspiré par Tomorrow Never Knows sent en effet très Beatles sur une rythmique assez britpop.
Pour autant, le groupe parvient à parfaitement diluer ses influences de façon habile pour trouver sa propre identité sonore entre guitares rondes et clavier légèrement psyché. Alors non, Strawberry Seas n'innove pas, n'invente ni un style musical ni une façon de produire la musique. Mais la force de cet album est de proposer un condensé 90's de haute de tenue merveilleusement bien exécuté dont le single Lazy Girl en est la parfaite illustration. Une valeur sûre.
Strawberry Seas est aussi retrouver dans notre playlist indie pop de mai 2020.
Strawberry Seas : liens utiles
Strawberry Seas sur Facebook, Bandcamp
Quelle bière boire en écoutant Strawberry Seas ?
Plus que de chercher une association avec le style musical, j'ai choisi de jouer la carte du local avec la brasserie de Tours La P'tite Maiz qui régale par ses bières toujours très bien constituées, innovantes et modernes.
Pour Strawberry Seas, j'ai choisi The New Adventures of Lassi. Non pas que l'album soit très orienté lassi, on n'a pas de sitar dedans, mais simplement parce que c'est l'une des dernières productions de la brasserie et qu'elle apporte son lot de surprises avec ses pointes acidulées dans un bon gros jus de mangue houblonné. A tester (avec modération bien entendu !)