Spring King – Tell Me If You Like To – Relève de Manchester assurée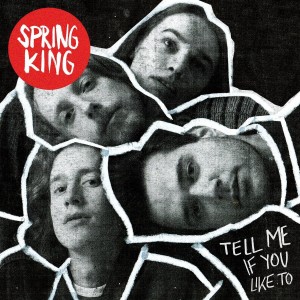 Difficile de passer à côté du premier album des Spring King, tant l'attente fut longue. Après un passage remarqué au très prestigieux SXSW l'an dernier et deux EP prometteurs, la bande de gueules d'anges de Manchester sort sa troisième création en trois ans : Tell Me If You Like To.
Medley du rock anglais
Au programme, un bon medley de ce qui fait l'attrait du rock anglais actuel et de ses inspirations : Spring King enchaîne avec punch et une efficacité déconcertante des sonorités punk, à l'image de titres comme Better Man ou Let's Ride.
D'autres influences se font entendre avec des passage plus Garage (Rectifier, The Summer), voire pop (Mumma), sans rien enlever à cette énergie entraînante , amplifiée par des refrains chantés en chœur, qu'on s'imagine déjà bien reprendre à tue-tête en live.
Au final, Spring King se fait une place plus qu'honorable dans le paysage rock alternatif anglais. A l'image de Circa Waves il y a deux ans, le groupe dégage une fraîcheur teintée d'influences pop et garage, le tout saupoudré de riff gras, joyeux et saturés.
Groupes similaires : Yak, Kaiser chiefs, Wombats, Wavves, Kasabian
Merci à François P, lecteur qui a souhaité faire sa chronique
Pour suivre les news de rock indé, suivez Merseyside sur les réseaux sociaux :
Concerts :
28/09 : Botanique – Bruxelles – Event Facebook
29/09 : L'Aéronef – Lille – Event Facebook
30/09 : Le Point Ephémère – Paris – Event Facebook