Live report : Novella, Tiger Bell et The History of Apple Pie au Point Ephémère le 20 mars 2013
Récit rapide d'une soirée de rock à guitares spéciale « Les Femmes s'en mêlent » avec Novella, Tiger Bell et The History of Apple Pie. Les têtes d'affiche ne sont pas forcément celles que l'on croit…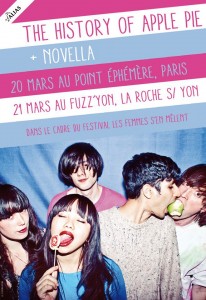 Novella, shoegaze approximatif
On avait découvert Novella l'année dernière avec du shoegaze bien foutu et vraiment plaisant. Sur scène, la recette tourne un peu au vinaigre à cause de l'approximation globale, des guitares mal accordées et du son assez bancal ne mettant pas vraiment en valeur les compos de ce teenage band bien plus séduisant en studio.
Tiger Bell, quand les tigresses sortent les riffs
Vient ensuite Tiger Bell, qu'on avait sélectionné dans notre playlist 2013 la semaine dernière pour mettre un peu de punk rock dans cette playlist indie. Les 4 nanas envoient du pâté sans se gêner à coups de riffs punk hyper en place. Tout est maîtrisé : le look avec les mini shorts et collants de couleur, les tatouages, le rouge à lèvres rouge crado, les grosses guitares, les choeurs, les lalala, les breaks batterie / guitares, les fins de morceaux calés à la milliseconde, la tchatche et l'humour. Le quartet 100% féminin débite une bonne douzaine de titres en 30/40 minutes. Le set est parfaitement assuré, avec une reprise super punky de « Ca plane pour moi« . Assurément le coup de coeur inattendu de la soirée.
The History of Apple Pie, la tarte qui tourne en compote
On ne peut pas en dire autant de The History of Apple Pie, dont l'album nous avait partiellement séduit. Ceux que l'on attendait comme la tête d'affiche ont commencé leur set très mollement, avec un son sans aucune puissance malgré les 3 guitares. Le batteur semble jouer de la twee-pop alors qu'on attend un peu plus de testostérone pour soutenir ces guitares sans relief. Le son est très approximatif, on entend à peine la voix, encore moins les backing vocals. Les fantômes de Lush ou Ride planent, mais pourtant le groupe ne dégage pas grand chose. Il faudra attendre les deux derniers morceaux pour que tout ça prenne une vraie dimension scénique et sonore. Dommage, la tarte aux pommes a tourné en compote.

Pour suivre les news de rock indé, suivez Merseyside sur Facebook :
http://www.facebook.com/merseysideband