Deerhunter – Why Hasn't Everything Disappeared – Une belle constance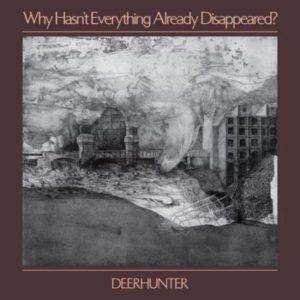 Fort de ses 7 albums précédents, Deerhunter appuie sur sa capacité à tester de nouvelles sonorités tout en gardant son ADN. Un défi pas évident et pour autant largement relevé.
Deerhunter fait partie des groupes que je suis depuis mon énorme coup de cœur pour leur album
The Halcyon Digest
qui trouve régulièrement place sur ma platine. Pour autant, les albums de Deerhunter m'ont toujours laissé une impression mitigée, avec de très bons titres qui embarquent, et d'autres plus difficiles d'accès.
Why Hasn't Everything Disappeared
ne déroge pas totalement à la règle, même si je lui trouve une meilleure constance, dans une atmosphère certes mélancolique et parfois lugubre (
Nocturne
,
Tarnung
). Une fois n'est pas coutume, les singles dévoilés avant la sortie étaient plaisant mais ne m'avaient pas captivés.
A noter que Element avait déjà été joué plusieurs fois en live en 2018 :

Toutefois, remis dans le contexte de l'album, les morceaux sonnent différemment, et la force principale de Deerhunter réside dans sa capacité à nous installer dans son univers à la fois malsain (Détournement, qui aurait plus sa place sur le projet solo de Bradfod Cox, Atlas Sound), et presque lyrique (Futurism, No One's Sleeping).

Car oui, le clavecin récurrent apporte une touche de lyrisme et vient se greffer parfaitement aux structures mélodiques caractéristiques de Deerhunter, reléguant presque les guitares au rayon des abonnés absents. Cette présence de synthés n'empêchent pas pour autant Deerhunter de régaler par ses dissonances (Element) ou quelques moments plus mélodiques où Bradford Cox semble faire transpirer sa sincérité (What Happened To People). Le disque mérite quelques écoutes pour être apprivoisé mais se révèle tout à fait plaisant.
Quelle bière boire en écoutant Why Hasn't Everything Disappeared de Deerhunter ?
Cet album a un côté triste qui donne presque l'impression que tout va s'arrêter ou disparaître ensuite. Je cherche donc une bière pas trop déprimante mais qui ne sent pas le soleil pour autant. La
Red Is Dead
de la très bonne
brasserie alsacienne Saint-Cru
, décrite par la brasserie comme « une rousse néo-libérale » fonctionne parfaitement. Son côté résineux orienté sur les agrumes rouges couplé à une bonne amertume… Parfait ! (Et oui, tu as déjà entendu parler de la brasserie Sainte-Cru
ici, en écoutant les Slow Sliders
, je confirme !)