Live Report – Deerhunter au Grand Mix (Tourcoing) : « You might think i'm drunk »
Récit d'un concert très réussi de Deerhunter, mais aussi complètement improbable… Un Bradford Cox bavard comme jamais. On vous raconte.
Hey guy,  do you want to make the gig ?
Le concert commence dans une ambiance molle, pourtant sur l'excellent Revival, extrait du mémorable album Halcyon Digest. Le son est là,  la montée en puissance des guitares aussi,  on commence à rentrer dans ce concert. C'est ce que l'on attendait après une première partie plutôt expérimentale avec Bradford Cox seul aux commandes de son projet solo : Atlas Sound.
Mais l'ami Bradford sent bien que la salle n'y est pas vraiment.  Il lance alors : How are you tonight ? » La salle répond timidement,  et quelqu'un lance : « The snare is awful« .  Bradford répète,  s'adressant à la régie : Hey Chris,  is the snare really awful ? « . Il faut avouer que l'on n'avait pas noté de problème particulier avec la caisse claire. Le Chris de la régie lance alors au type : » hey guy,  do you want to make the gig ?« ,  Et l'éclaire de sa torche. Bradford Cox lance alors : we should let the lights on,  don't you think ? Tiens,  ça rappelle le concert de Paris en 2011 où les lumières étaient restées allumées pendant toute la prestation !
Verlaine, Rimbaud et Tourcoing
Et là le concert est parti dans un numéro totalement improbable de Bradford Cox,  bavard comme jamais : how many people from the audience live in Tourcoing ? Quelques mains parsemées se lèvent. Do you all come from Lille to Tourcoing? (avec un accent redoutable). I like french,  but my pronounciation is awful because of my teeth. Well,  is it beautiful Tourcoing ?  Cause we didn't see nothing but our hotel. But it's a nice venue here, probably the best in Europe. Et puis c'était parti pour les poncifs : I love Verlaine,  Rimbaud also.
We dub you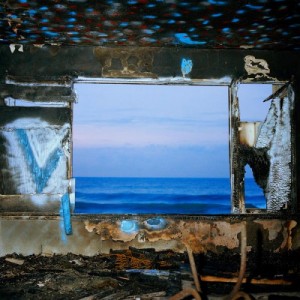 Et le concert dans tout ça ? Eh bien contre toute attente,  ça a duré 2 heures (mais combien de temps Bradford a-t-il parlé au final ?) ! Le dernier album était logiquement à l'honneur,  avec certaines versions différentes pour le live,  et tant mieux.  Bradford lance : we gonna play some dub. We dub you. Living my Life passe alors en mode ultra dansant,  vraiment bien foutu,  et qui aurait pu d'ailleurs, avec ses guitares étincelantes, aller à merveille avec une reprise de The Boy With A Thorn In His Side des Smiths. On notera quelques longueurs sur Ad Astra ou sur le speech de Bradord, qui va jusqu'à simuler sa propre mort sur scène ou insiste : « You might think i'm drunk, but I'm just… (il hésite) riding the waves… Ce dernier est parfois interrompu par le batteur, visiblement lassé du délire du grand dadais. Le reste du groupe est clairement relégué au statut de simples exécutants.
Setlist surprise
La setlist réservera quelques surprises,  avec aucun morceau de Monomania ni même le dernier single Snakeskin. Un petit Helicopter aurait été apprécié également. Mais les piliers étaient bien là : Cover Me (Slowly) est une vraie réjouissance sur scène, Breaker est aussi attachant que sur disque, Don't Cry reste un incontournable de Halcyon Digest.  Le tout entrecoupé d'interventions de Bradford en mode one man show (Do you like Jacques Brel?). Finalement, ce Bradford n'est pas toujours une tête de lard !

Pour suivre les news de rock indé, suivez Merseyside sur Facebook :