Chapel Club, le palace de l'indie new wave britannique
Si 2010 laissait la part belle aux groupes américains (Deerhunter, MGMT, Violens, Beach House…), 2011 semble prendre une autre tournure avec de biens belles révélations dont Chapel Club s'annonce comme l'une des formations les plus excitantes. A mi-chemin entre Echo And The Bunnymen et The Smiths, le quintette nous livre Palace, un premier album sombre et brillant.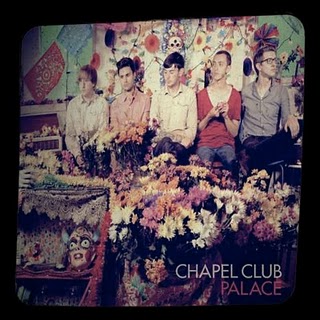 Formés il y a trois ans, leur premier single Surfacing voit le jour en 2009 mais mettra un peu de temps à remonter à la surface suite à des différends juridiques. (Les paroles reprennent sans vergogne – et sans autorisation – celles de Dream A Little Dream Of Me, morceau de 1931 composé par Ozzie Nelson). Annoncé comme l'un des meilleurs espoirs 2010 par le NME, le groupe s'affiche avec différents singles comme The Shore qui réveille le fantôme des Smiths portés par Ian McCulloch qui résonne sur un puissant mur du son.
Les références à Echo And The Bunnymen sont parfois d'une extrême évidence comme en témoigne Five Trees, tant dans la voix que dans sa composition et ses paroles noires (« Dust in my heart, dust in my veins, I strayed too far into a dream« ) ou All The Eastern Girls dont le clip laisse également entrevoir quelques parallèles esthétiques que ne renieraient pas la bande à McCulloch.
Sans être forcément la révélation de l'année, Chapel Club se fraie un chemin sur la scène anglaise avec une album assez homogène, noir et puissant. A recommander aux décus d'Interpol !