TOWNS, le nouveau groupe anglais nostalgique des 90's !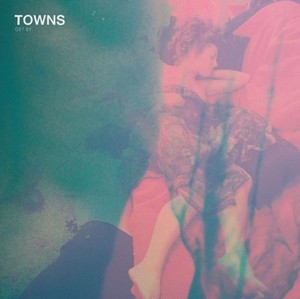 Un nouveau groupe anglais qui fleure bon les années 90's, digne héritier des années Creation. Oui c'est possible, et TOWNS s'en sort franchement très bien, de My Bloody Valentine à Oasis. Chronique.
Ça commence avec une basse baggy et de grosses guitares saturées, ambiance shoegaze. Un nouvel album de Ride ? Dès qu'on entend la voix, on comprend que non. TOWNS sonne plus pop malgré ces influences. Mais tout y est : la voix assez commune, le tambourin, les solos de guitare. La distorsion du début de Marbles nous fait revivre un court instant celle de The Concept de Teenage Fanclub. Mais les guitares sonnent comme du Oasis cuvée 94 avant de rassembler toute la britpop d'antan.
Trip Over ne fera pas moins nostalgique, Elastica et plein d'autres ne sont jamais loin. On retrouve en effet une multitude de morceaux qui fleurent bon les années 90 parsemés ça et là au fil de l'album. On retrouve le fantôme de Ash sur Gone Are The Days. Pour compléter le tableau, TOWNS balance un single pop parfait avec Young At Heart.
Mirror Ghost est un doux mélange de Tame Impala et de The Horrors, n'égalant cependant aucun des deux. Comment être « so 2014 » quand on est un groupe anglais à guitares ? En faisant vibrer le revival shoegaze, ce que TOWNS fait très bien. Interlude shoegaze pour annoncer le très percutant Heads Off, à l'intro plus My Bloody Valentine que jamais. Les ooh ooh semblent venir tout droit de Bilinda Butcher. Just Everything balance des variations de guitare que l'on retrouve chez My Bloody Valentine sur un ensemble très noisy pop.
Everyone's Out et son dédale de guitares nous prouvent que Ride et My Bloody Valentine sont plus que jamais des influences indéniables de TOWNS, nous laissant sourds derrière les 8 minutes de distorsions apocalyptiques. On trouvera presque dommage de ne pas terminer sur ce feu d'artifice, au profit de la planante balade Get By.
Ce premier album de TOWNS a tout pour satisfaire le nostalgique 90's. Seule ombre au tableau : à peine l'album sorti, le groupe a déjà annoncé sa séparation ! Tant pis, on prend quand même !

Pour suivre les news de rock indé, suivez Merseyside sur Facebook :