The Vines – In Miracle Land – Aspetisé et peu inspiré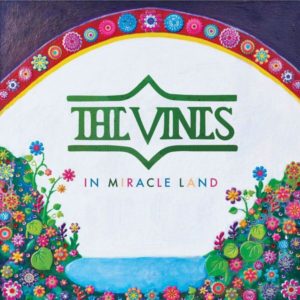 A vrai dire, qui attendait un retour de The Vines ? Sans doute pas grand monde, mais j'avoue n'avoir rien attendu d'eux et avoir été agréablement surpris à la sortie de Wicked Nature en 2014. Cette fois, c'est tout l'inverse…
Globalement, on peut saluer la cure d'amaigrissement de la production de The Vines. Ici, les chansons semblent presque acoustiques. Mais ça reste The Vines, on a donc aussi de bons sons bien rock. Ce qui est salutaire, c'est que le groupe semble vouloir revenir à l'essence même du groupe de rock : guitare, voix, basse, batterie. C'est louable et pas totalement raté.
En revanche, les compositions manquent cruellement d'inventivité. Oui j'aime bien écouter des choses basiques de temps en temps. Il faut. Mais la simplicité a ses limites. La créativité aussi visiblement. Exemple sur Willow, on a vraiment l'impression d'un groupe qui est tombé sur un riff qui sonne pas trop mal et qui va le répéter pendant 3 minutes pour avoir un morceau.
Idem sur Sky Gazer. Comment peut-on sortir en 2018 cette compo qui ressemble plus à un groupe qui fait une reprise de Zombie des Cranberries et qui la « détourne » pour un faire un morceau à eux. J'exagère volontairement, mais je trouve cela vraiment peu inspiré. Le final Gone Wonder souffre de ce même symptôme, gonflé en plus par un prod limite FM dégueulasse.
Quelques morceaux sortes du lot : Waitin et son riff accrocheur… ah non, en fait il n'y a pas grand chose à part le riff de début. Allez, mettons un petit crédit sur Slide Away et ses guitares grasses à la Oasis (un hasard ?) qui redonne un peu de caractère à cet album bien plat. Car ce qui a fait le succès des Vines, c'est aussi leur caractère, leur identité qui semble ici totalement aseptisée.
Quelle bière en écoutant In Miracle Land de The Vines ?
On va aller dans le sens de l'album et aller chercher quelque chose sans risque, parfois sympa, qui se boit facilement et qui reste correct. Car finalement, si j'ai été un peu dur sur la chronique de l'album, ça reste écoutable par rapport à toutes les daubes qui font les tubes actuels.
Je propose donc la London Pale Ale de la brasserie anglaise Meantime Brewing. C'est assez standard, il n'y a pas de surprise, ça se boit bien et c'est accessible à tous. Je l'avais bue à Londres avec un Fish&Chips, c'était très bien. On la trouve dans quelques supermarchés en France, notamment Monoprix.
Pour suivre les news de rock indé, suivez Merseyside sur les réseaux sociaux :