Stellastarr* monte d'un ton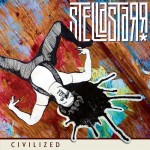 De l'eau a coulé sous les ponts depuis la première prestation de Stellastarr* en France lors du festival des Inrocks (2003) et c'est avec une oreille délicate que Merseyside a écouté leur troisième album !
Alors, alors ?
Après un premier album énergique et un peu brut de café (« Stellastarr » en 2003), suivi d'un deuxième qui nous plongeait plus profond dans les délices des harmonies sombres (« Harmonies for The Haunted » en 2005), voici enfin le troisième album tant attendu de Stellatarr* : « Civilized ».
Ca commence sur des riffs endiablés avec « Robot » puis « War Child » qui rappellent les plus étranges chansons des Pixies. Quelques mélodies pop bien senties comme « Prom Zombie » viennent nous chatouiller agréablement les oreilles. On sent cet album plus rythmé mais il véhicule une énergie légèrement différente…
En effet « Civilized » envoit un son résolument plus rock, limite noisy et témoigne peut-être aussi des problèmes de gorge qui ont affecté durablement la voix de Shawn Christensen ces derniers temps (il a d'ailleurs été contraint de la monter d'une octave).
Espérons qu'ils montent aussi sur scène en France très bientôt !
http://www.myspace.com/stellastarr
Petit rappel : Stellastarr* (l'astérisque fait partie du nom du groupe) est un quatuor américain formé à New York en 2000. Révélés en premières parties de groupe comme Placebo, The Killers ou Editors, ils ont eu l'occasion de consolider leurs morceaux des Etats-Unis au Japon en passant par l'Europe. Ils puisent essentiellement leur inspiration de groupe des années 80 comme Joy Divison, mais également du côté des Pixies. Ce troisième album est leur première parution sur leur propre label, Bloated Wife Records.