The Lanskies – Hot Wave
The Lanskies est un groupe normand qui est allé « across the Mersey » pour dégoter son chanteur à Liverpool. Ça leur a d'ailleurs inspiré le titre de leur premier album, Lords of The Mersey en 2008 (auquel il n'a pourtant pas participé). Avec Hot Wave, les Lanskies affirment leur style, justement hot wave, c'est à dire de la New Wave, mais hyper dansante ! Et beaucoup plus musclée avec une excellente production, sans doute ce qui frappe quand on compare cet album au précédent (Bank Holiday en 2010).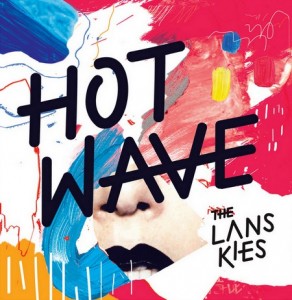 Des Happy Mondays à The Rapture
Un album qui clame en ouverture 48 Hours Party People, on avait des chances de vouloir aimer, aussi subjectif soit-il. (24 Hour Party People est une chanson des Happy Mondays qui a donné son titre à un film du même nom retraçant l'histoire de la musique de Manchester de 77 à 97). Ce n'est pourtant pas du côté de Manchester que les influence des Lanskies sont les plus marquées.
Si Bank Holiday faisait penser à la voix de Robert Smith (The Cure), Hot Wave semble s'être affranchi de cet héritage, allant puiser dans un répertoire assez large, dans le meilleur de l'indie et électro pop. D'emblée, 48 Hours Party People nous projette chez The Rapture, ça sent la galette groovy.
Un air de Bloc Party
Les tubes qui composent cet album sont d'ailleurs vite identifiables : Fashion Week aurait pu figurer sur un album de Maximo Park ou Bloc Party, Anita et son côté Wannadies ou Fountains of Wayne en mal d'électro, Romeo et son joli riff de guitare sur le refrain, sorte d'appel du pied à Art Brut, en mode électro. Certains y repéreront un son familier très shoegaze, je veux parler d'Asteroid et ses effets de guitare qui ressemblent à s'y méprendre à Leave Them All Behind de Ride sur un morceau qui n'a pourtant rien de shoegaze. Je pense que l'allusion n'est pas volontaire et que mon oreille est un peu orientée. En tous cas les pochettes sont à peu près aussi colorées.
Bref, malgré quelques titres discutables (If You Join Us et son beat presque dance), Hot Wave nous livre un final gonflé aux hormones avec Sunny Rose qui rappelle un groupe éphémère nordique : the Superheroes. Au final, The Lanskies nous livrent un album très complet, truffé de références et qui a suffisamment de consistance pour faire groover dans les chaumières (normandes) pendant un bon moment.
Actualités de The Lanskies
>Retrouvez The Lanskies dans notre playlist de janvier 2014 en cliquant ici.
En concert le 25 mars au Divan du Monde. Billets ici.

Pour suivre les news de rock indé, suivez Merseyside sur Facebook :