The Crumble Factory – De Blur aux Pixies en passant par les Boo Radleys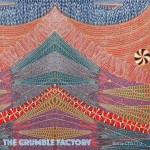 Le groupe toulousain The Crumble Factory, signé chez Popsisters Records et désormais distribué chez Pias, revient avec un bel album de pop 90's. Joli parcours pour un combo (et surtout un songwriter) pour qui l'écriture pop semble évidente.
The Crumble Factory est à Toulouse ce que El Botcho est à Toulon. Vous n'avez rien compris ? Suivez les liens ci-dessous. On plonge dans l'album avec une intro de 35 secondes qui peut sembler anecdotique. A bien l'écouter, on note de jolis arrangements sur la lignée d'un Paul McCartney. A condition de ne pas le prendre à la légère et d'écouter dans les détails. C'est une sorte de synthèse de cet album qui peut sembler simple, voire simplet. Les plus pressés se diront qu'il s'agit d'un énième album pop.
Ceux qui prendront la peine d'écouter en détail, noteront de jolis détails (à commencer par la superbe pochette) : les trompettes de Find The Answer Within des Boo Radleys sur Belgians, la dynamique des Pixies sur Pâquerette ou Mountain Boy et sa basse entête piquée à Debaser (des mêmes Pixies), les balades noisy qui montent en intensité (The Hill Song, qui aurait d'ailleurs pu clôturer la Face A du vinyle), et bien entendu, des pop songs qui semblent aussi évidentes que faciles. Telle est la marque de fabrique de ce combo du sud qui a d'ailleurs ficelé un clip ultra 90's pour illustrer le tout !
Si l'on peut reprocher une structure des morceaux parfois proche, l'ensemble fonctionne plutôt bien, évoque souvent les premiers albums de Blur (No Sex On Monday) et traduit par l'évidence de l'écriture, une joie communicative qui apportera aux grincheux de l'automne la dose nécessaire d'enthousiasme pour finir l'année.
Pour suivre les news de rock indé, suivez Merseyside sur les réseaux sociaux :