The Apartments – Fête foraine – Album classieux et profond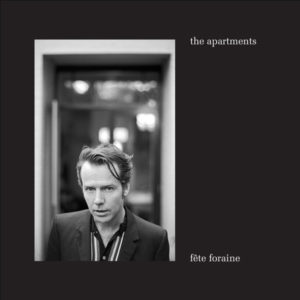 Le groupe The Apartments, autour de son songwriter génial Peter Milton Walsh, revient avec une réédition de Fête Foraine sorti en 1996. Un album acoustique profond, d'une intensité folle.
The Apartments est un groupe australien bien connu de la petite sphère indie pop qui s'intéresse au songwriting. Autrement dit, un écrin ! Pourtant, le groupe a débuté à la veille des années 80, avec diverses phases d'inactivité. Et donc une discographie qu'on pourrait imaginer bien remplie. Ce ne sont pourtant qu'une dizaine d'albums. Mais preuve une fois de plus que la qualité prime sur la quantité. Et la qualité est à l'image de sa tête pensante, Peter Pilton Walsh, songwriter inspiré et habité autour duquel est articulé le groupe à géométrie variable The Apartments.
En 1996 sort Fête Foraine (en français dans le texte), un album peu distribué et rapidement considéré comme une rareté au fil du temps. Même en CD, le prix pouvait atteindre 50€. Cet album est en réalité une compilation où Peter Pilton Walsh reprend d'anciens titres en version dépouillée. Faisant ainsi ressortir la puissance de l'atmosphère de The Apartments, la voix profonde de Walsh. Un album acoustique, sans batterie et avec une guitare tout en profondeur. Presque un live acoustique enregistré à huis-clos.
Exemple ici avec la version de 92 et celle de 2017 :
Par cet exercice, avec le travail de remasterisation de Don Bartley (qui avait enregistré le Fête Foraine de 96), Peter Milton Walsh montre toute la puissance de sa guitare acoustique couplée à sa voix profonde. Même certains morceaux énergiques d'antan, devenus ralentis et acoustiques, prennent une dimension incroyable sur cet opus remasterisé.
End Of Some Fear nous ferait même penser à Satie en version acoustique (écoutez bien entre 2'20et 2'40). Ici avec la version originale, non remasterisée. Il faudra écouter sur l'album la dernière version.

J'avoue, j'y ai même entendu le piano des Smashing Pumpkins, sur l'album pourtant violent Machina/The Machine of God (2000). Billy Corgan étant capable d'écrire de merveilleuses chansons clames et profondes, l'album Adore en étant la preuve.
Peter Milton Walsh fait donc partie de ces songwriters méconnus qui ont pourtant leur place au panthéon de la pop. Tel un Nick Cave avec qui collabora Bleddyn Butcher, photographe qui intègre quelques photos inédites de The Apartments dans cette nouvelle version de Fête Foraine. Distribué par La Centrifugeuse sur l'incontournable label Microcultures, Fête Foraine est le disque parfait de cette fin d'année, pour les soirées d'hiver dans son beau fauteuil club, autour d'un bon whisky ou d'une bière de dégustation vieillie en fût de cognac. Une certaine image de la classe.
Pour suivre les news de rock indé, suivez Merseyside sur les réseaux sociaux :