Teenage Fanclub – Here – Mièvre déception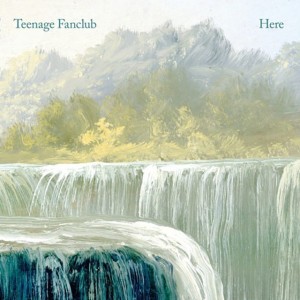 Comment dire du mal d'un des groupes les plus respectables de l'indie pop que l'on défend sur ces pages ? Et à défaut de comment, la question du pourquoi se pose à l'écoute du nouvel album.
Teenage Fanclub, groupe intouchable
Teenage Fanclub est un groupe intouchable. Pour avoir inspiré Nirvana lors de l'écriture de Nevermind ? Pas spécialement. Plutôt pour la qualité de ses premiers albums, notamment les mémorables Bandwagonesque et Grand Prix. Par son approche résolument indé, sa qualité d'écriture, son sens inné des mélodies, son travail sur les arrangements.

Ventre mou de l'indie pop
Mais voilà que les années passent, sans que grand chose ne se passe. Certes les compositions sont toujours là, les harmonies vocales, les petits solos noisy par ci, par là. Mais tout ça s'embourbe tout doucement dans une gentillette petite mièvrerie qui apporte cette once de déception. Certes on n'écoute pas un nouvel album de Teenage Fanclub pour de la grande nouveauté, de l'innovation. Mais avec la quantité de disques à écouter, nos amis écossais ne sortent pas vraiment le nez du ventre mou de l'indie pop. Certes The First Sight réjouit notre profond côté pop en manque de passages noisy, nostalgique des trompettes des Boo Radleys, oui Thin Air apporte sa petite fraîcheur indie twee-pop. Live The Moment réveille aussi les troupes. Heureusement, car on ne peut en dire autant du single I'm In Love, qui malgré son rythme entraînant, sonne comme de l'archi déjà vu. Here reste malgré tout un bon album de Teenage Fanclub. Un de plus serait-on tenté de dire… Mais finalement, dans un style proche, on aura plus de plaisir à écouter le nouvel album de EZTV.
Pour suivre les news de rock indé, suivez Merseyside sur les réseaux sociaux :