Old Mountain Station – The Summer Ends – Distorsion assurée
Old Mountain Station – The Summer Ends | We Are Unique! / Bigwax. Sorti le 5 mars 2021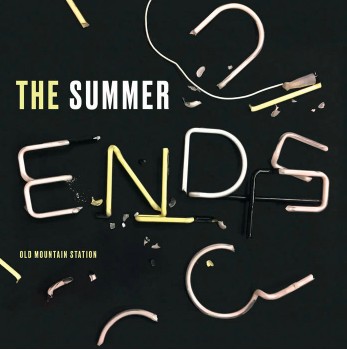 Old Mountain Station est un groupe français qui sort son troisième album à l'aube de ce printemps 2021. Guitares saturées, rythmique impeccable, sur fond de clavier entêtant.
Old Mountain Station, power-pop enivrante
Comment ne pas évoquer Grandaddy à l'écoute de The Summer Ends ? En effet, le son est électrique, et surtout l'apport du clavier -omniprésent- apporte à cet album une trame, une ligne musicale qui vient renforcer le son enivrant de Old Mountain Station. Car oui il y a quelque chose d'enivrant chez Old Mountain Station, une ambiance à la fois puissante par l'ampleur électrique du son déployé par le groupe, couplé à un chant délicat, presque discret ou en retenue. Ca ne plaira certes pas à tout le monde. Quand You've Got No Say peut évoquer la power-pop des grandes années de Weezer, les Fountains of Wayne ou les Wannadies, c'est pourtant avec un chant légèrement sous-mixé, laissant la place aux guitares saturées.

We've Seen It All Before affiche par exemple sa fluidité, la facilité indie pop qui fait du bien et qui montre à quel point Old Mountain Station maîtrise l'art de la mélodie efficace, alliant facilement l'énergie rythmique et les chœurs parfaitement contrôlés.
Pourtant l'album ne s'affiche pas dans un rythme effréné, bien au contraire, à l'image de I Am A Pendulum, lent mais profond.
Le single inaugural Adios est également assez représentatif du son Old Mountain Station de 2021 : langoureux, fédérateur, mélancolique.
Il est en effet question de mélancolie comme sur The River And Me où la voix se montre moins aigüe, un peu plus appuyée, pour se mêler à cette distorsion dont on appréciera le grain ou sur Under Your Command avec ses jolis arpèges de guitare et ce son de clavier qui ne peut que nous rappeler les grandes heures de Grandaddy.
The Summer Ends s'affiche, alors que le printemps n'a pas encore commencé, comme un album simple, sans prétention, mais efficace, rappelant -si toutefois c'était nécessaire- que le rock à guitares n'est pas mort. Le rock hexagonal non plus, et on ne peut que s'en réjouir.
Quelle bière boire en écoutant Old Mountain Station ?
Il y a chez Old Mountain Station ce côté rock à guitares un peu grassouillettes qu'on aime bien, il faut donc quelque chose qui a du corps, qui ne fasse pas que dans la fraîcheur et les agrumes. Du coup je vois bien une bonne stout mais qui joue un peu dans la subtilité. Une milk stout par exemple ! Ca tombe bien, la Super Vanilla Brew de la brasserie charentaise La Débauche irait très bien avec son côté crémeux et vanillé qui viennent compléter la base caféinée. Tout ce qu'il faut dans une vieille station de ski pour écouter de la musique ! A boire avec modération bien entendu !