Odessey & Oracle, le disque le plus intriguant de l'année 2014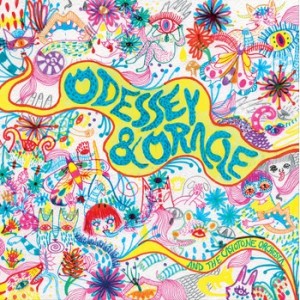 Dans la jungle des top albums 2014, la fin d'année a été marquée par un ovni aussi déroutant que captivant. Chronique de l'album d'un groupe atypique et rudement doué, à la culture musicale évidente et au sens des arrangements sidérant. Tout simplement passionnant !
Un disque pop de musique classique
Voilà un disque sacrément atypique qui mérite des dizaines d'écoutes pour s'apprécier à sa juste valeur. Accompagné de musiciens talentueux, le trio Odessey & Oracle And The Cassiotone Orchestra, nom inspiré de l'album de The Zombies sorti en 1968, sème le trouble dans notre univers pop parfois trop formaté.
Vous le savez, le rock indé est à l'honneur sur ces pages. Pourtant, ce que vous ne savez peut-être pas, c'est qu'un des disques fétiches de votre serviteur est un disque de musique classique (les variations Goldberg de Bach par Glenn Gould). Pourtant nourri par les Beatles, Beach Boys et leur descendance, mais avec une culture classique, j'ai retrouvé un peu tout ça dans ce disque ô! combien complexe et intéressant, notamment avec les variations qui entrecoupent les morceaux.
Quand les Beatles viennent flirter avec Bach
Les arrangements sont d'une richesse bluffante dans un ensemble assez imprévu et pourtant très cohérent. On retrouve des ambiances propres à Air sur I Saw My Mother,
des clins d'oeil aux Beatles (et Michael Jackson sur la fin) sur Fixing The World,
des airs de musique du moyen-âge (The Unicorn)
mêlant ces influences à des variations de guitare que l'on croirait sorties du répertoire de Paganini (Invention#7) ou à certaines messes de Bach, le tout avec un son très 60's.
Seule ombre au tableau : un V.I.A.G.R.A au beat grossier et peu inspiré, fruit d'un délire pourtant très construit musicalement.
L'album de Odessey & Oracle est une vraie et belle découverte qui ose, nettement plus intéressante et mieux écrite que les pseudo albums de pop baroque que l'on voit parfois éclore ça-et-là. Bravo !
Liens utiles
http://soundcloud.com/odessey-and-oracle/
http://odesseyandoracle.bandcamp.com/
http://www.cartoncartoncarton.com/odesseyandoracle
http://odessey-and-oracle.blogspot.fr/


Pour suivre les news de rock indé, suivez Merseyside sur Facebook :