Meilleurs albums 2012 – de 50 à 41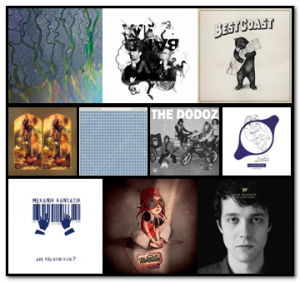 De Alt-J à Yan Wagner, 10 albums : 2 groupes britanniques, 3 groupes américains et 5 groupes français ! Voilà la fin de notre classement 2012, avec du rock garage, de l'électro, des teintes de hip hop. Réécoutez quelques extraits de 10 albums qui reflètent de façon totalement subjective cette année 2012…
50. Alt-J – An Awsome Wave (UK)
On est bien conscient qu'on risque de s'attirer les foudres de la blogosphère et de la presse spécialisée en pointant Alt-J en dernière position de notre classement, alors que l'album a été l'objet de chroniques plus dithyrambiques les unes que les autres. Peu importe… l'album enchaîne les trouvailles diverses, casse les schémas classiques des chansons toutes tracées. Au final, c'est un album plaisant, un bon fond sonore pour l'apéro, n'en déplaise aux autres.

49. We Have Band – Ternion (UK)
Trio réunissant mancuniens et londoniens, We Have Band distille une électro-pop à cheval entre Hot Chip, Foals et les Talking Heads. Plaisant et bien foutu.

48. Best Coast – The Only Place (US)
Même recette que le premier album : pop song gorgées de soleil et de réverb façon « j'enregistre dans ma salle de bain ». La solution anti-déprime de l'hiver.

47. Friends – Manifest! (US)
Des échos, des boucles sonores déjantées, des sons éclectique et tout bizarres… un album déroutant, et pourtant la sauce prend !

46. The Spinto Band – Shy Pursuit (US)
Un album pop assez bien charpenté à la croisée des chemins entre les Strokes et Grandaddy. Efficace en cas de coup de blues.

45. The Dodoz – Forever I Can Purr (FR)
Groupe toulousain (à ne pas confondre avec le groupe américain The Dodos) à l'énergie débordante, The Dodoz livrent un album brut et énergique sur les traces des Strokes ou de Foals.

44. Concorde – Summer House (FR)
Des français qui font de l'électro-pop finement arrangée et très communicative de bonne humeur et d'envie de se trémousser. Pour les fans de Phoenix et  The Whitest Boy Alive.

43. Mekanik Kantatik – Are You Kantatik (FR)
Attention, ovni ! Derrière ce nom scientifique se cache Nicolas Cante, un pianiste français qui se sert de son piano comme laboratoire d'expérimentations sonores complètement folles. Un peu comme si Gonzales avait retrouvé un disque de Saint-Germain et l'avait passé à la moulinette de ces 30 dernières années, tous styles musicaux confondus.
42. Wax Tailor – Dusty Rainbow from the Dark (FR)
Du Wax Tailor sans grande surprises, mais toujours plaisant. Cette album sonne comme un vrai film de cinéma avec une pléïade d'invités. Du hip-hop, de l'électro, du trip-hop… bref, du Wax Tailor.

41. Yan Wagner – Forty Eight Hours (FR-US)
Vous aimez Joy Division et New Order ? Yann Wagner réunit les deux, à savoir une voix aussi grave qu'inquiétante sur fond d'electro-rock. Perturbant au début, et pourtant salement accrocheur.