Live Report – Tame Impala à l'Olympia le 26 juin 2013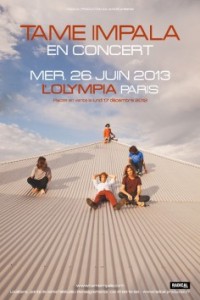 Le groupe australien psyché Tame Impala était hier sur la scène de l'Olympia pour défendre les couleurs de son excellent deuxième album Lonerism. Nos impressions d'un concert sacrément bien foutu et pourtant assez scolaire. Psyché peut-être, mais aussi bien calculé.
La première partie était assurée par la française Melody's Echo Chamber dont l'album sorti l'année dernière nous a franchement séduits (6ème de notre classement 2012, oui oui !). Evidemment, c'est la première partie idéale pour Tame Impala, car Melody's Echo Chamber, c'est du Tame Impala avec une voix féminine ! La prestation est fidèle à l'album, même bonifiée par une bonne amplitude sonore. On craignait un peu la difficulté de reproduire le son de l'album sur scène, mais Melody Prochet, au physique d'un mélange de Lou Doillon et Victoria Legrand de Beach House, s'en sort finalement remarquablement bien.
Tame Impala se présente sur scène dans des lumières qui seront celles de tout le concert : du vert fluo foncé, du bleu indigo, du orange… ambiance chaude pour un show qui s'annonce psychédélique. A notre surprise, pas de fumée. Le décor est dépouillé, seul un écran en fond relaie des animations qui semblent sorties tout droit de Windows Media Player par défaut. Décevant. Après une intro, le groupe commence par Solitude Is Bliss morceau du premier album qui recueille l'enthousiasme du public. Le son est bon et montera en puissance au fil du concert. Les éléments psyché sont bien là sur des titres emblématiques que sont Endors toi, Alter Ego (et toutes ses subtilités), ou la balade Feels Like Only Go Backwards. Le batteur français Julien Barbagallo est très convaincant, domine sa batterie sur des rythmes qu'il faut tenir avec précision. Gros pied sur It's Not Mean To Be où la voix de Kevin Parker résuscite John Lennon comme il se doit. Elephant prend toute sa dimension en live, oscillant entre Kasabian (Elephant a un côté Shoot The Runner, single du deuxième album de Kasabian) et des sons à la Led Zeppelin. Sauf que n'est pas Led Zep qui veut.
On regrettera ce soir chez Tame Impala ce manque d'improvisations enflammées qui colleraient pourtant parfaitement au groupe. Les écarts de l'album sont en fait bien travaillés. C'est bien, mais ça manque parfois de spontanéité. Le concert se termine avec un très gros son sur Half Full Glass of Wine qui éclate véritablement en live, se terminant sur un final flamboyant après une montée sonique de 10 minutes pleine de suspense. Grosse claque en live. On aurait bien aimé terminer le concert sur cette intensité. Sauf que le groupe revient pour un rappel assez décevant d'un solo de batterie et de Nothing that Has Happened So Far Has Been Anything We Could Control qui justement n'a pas vraiment décollé. Dommage, le rappel ne doit pas forcément apparaître comme une tâche obligatoire.
Au final, le concert était franchement bon, on a pris notre pied, mais finalement, le tout est resté assez scolaire, même si c'était très en place et très fidèle en terme de son. On ne va pas se la jouer en mode vieux con en disant « Jimmy Page, il faisait de vrais solos improvisés », mais c'est vrai que sur le style de musique de Tame Impala, on s'attend à un peu plus de folie. Mais voilà, malgré tout le respect qu'on lui doit, Kevin Parker n'est ni un Jimmy Page, Jeff Beck ou Jimi Hendrix. Ca n'en a pas gâché nos Apocalypse Dreams pour autant !

Pour suivre les news de rock indé, suivez Merseyside sur Facebook :