L'Espace B ferme en décembre ! Plan B pour une équipe simple, sincère, honnête, et passionnée…
La nouvelle est tombée officiellement hier : l'Espace B ferme ses portes ! Coup de massue pour les amoureux d'un prog rock indé très pointue.
Petit couloir
La raison est simple : le bail de l'endroit arrive à échéance, le propriétaire ne souhaite pas le renouveler. Derrière cette décision, c'est un petit coup de massue sur la communauté des adeptes de l'indie pop. 
Si je devais résumer en une image insolite, je parlerais du petit couloir étroit où j'y ai vu plusieurs fois Cécilia, responsable de la promo et des partenariats, y tenir la caisse et résister à moultes reprises aux nombreuses sollicitations pour rentrer. Soit parce que c'était complet, donc plus de place à acheter, soit par des relous qui veulent rentrer gratos, par principe. Et elle tenait bon. A l'image de la programmation de l'Espace B qui n'est jamais tombée dans la facilité et les vices du marketing. Il y a une éthique à l'Espace B. Avec souvent plein de groupes pas connus, mais rarement décevants.
Psyché Night
C'est aussi l'aspect collaboration que j'ai toujours apprécié en tant que blogueur. Vous avez dû le constater, nous avons pu faire plusieurs collaborations avec l'Espace B. Content de vous proposer des places pour des groupes de qualité (Appletop, Craft Spells, Pale Spectres, The Proper Ornaments, The Luxembourg Signal) et aussi ravi de la façon dont ça s'est passé à chaque fois :
simple, sincère, honnête, et passionné.
Nicolas, responsable de la programmation, a toujours été à l'écoute de suggestions de groupes. Cécilia, à la communication, toujours prête à s'appuyer sur différents relais pour promouvoir leur travail. C'est comme ça que nous sommes parvenus à organiser la Psyché Night en avril dernier avec Animali et Moonsters. Vous pouvez d'ailleurs
lire le détail de cette collaboration ici
.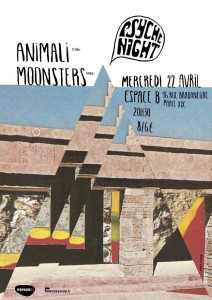 Plan B
C'est donc tout ça qui va s'arrêter en décembre. C'est aussi la fin de
playlists ultra qualitatives
, bourrées de découvertes. Une page se tourne, mais aucun ressentiment de la part de l'équipe. C'est plutôt une occasion de rebondir, de tenter quelque chose de nouveau. Romain, à la régie, rejoint le Point FMR, dont on apprécie l'excellente programmation. Cécilia et Nicolas trouveront certainement d'autres idées. On leur souhaite évidemment le meilleur plan B !

Pour suivre les news de rock indé, suivez Merseyside sur Facebook :