Interview de Yann Debiak, initiateur du projet The Color Bars Experience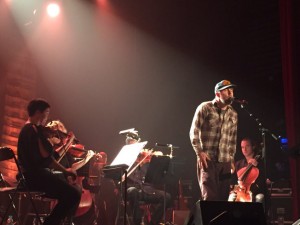 Interview de Yann Debiak, l'initiateur du génial projet The Color Bars Experience, collectif de musiciens qui rendent hommage à Elliott Smith aux côtés de Jason Lytle, Ken Stringfellow et Troy von Balthazar.
Quel bilan fais-tu de cette tournée ?
Un bilan très positif . Les salles étaient quasiment pleines à chaque concert alors qu'Elliott Smith n'est pas d'actualité . Cela signifie que les fans ne l'ont pas oublié et ont fait confiance à notre projet. Nous avons réussi à convaincre également des néophytes à écouter Elliott Smith grâce à ce concert.
Quelle a été ta plus grande surprise/ton meilleur souvenir ?
La tournée dans son ensemble et l'esprit de Groupe du Color Bars Experience et des 3 chanteurs ! C'était réellement un groupe en tournée et pas une addition de musiciens.
Y a-t-il eu des moments difficiles ?
La fin de la tournée a été un peu compliqué pour tout le monde . Le groupe était tellement bien ensemble que ce fut compliqué pour certains d'entre nous.
Est-ce que le groupe et les morceaux ont évolué depuis le premier concert parisien ?
Le groupe n'a pas évolué . Seule la flutiste qui était à Paris n'a pas pu se joindre à nous. Anne-Cécile , notre autre flûtiste a fait le travail remarquablement et elle fait partie du Color Bars Exeprience dorénavant. Nous avons donc 2 flûtistes .
Y a-t-il eu des envies d'enregistrement en studio ?
Pas pour le moment .
Quelle est la suite pour ce collectif ? 
Le Color Bars Experience va continuer vers de nouvelles aventures dans les prochains mois . Il y a tellement de choses à explorer et de ponts à créer . Ce ne sont pas les idées qui manquent.
Pourrais-tu imaginer un concept du même type, avec les mêmes musiciens, en hommage à un autre artiste ?
C'est en cours.
Quelques coups de coeur de 2015 ? 
Mes coups de coeur ? Mon fils de 4 ans qui commence le violon . Ecouter Metronomy , Arno, Elliott Smith , Grieg avec mon fils de 10 ans ! Hansel & Gretel de Humperdinck .
Des attentes musicales en 2016 ?
Mes attentes …? Rien de bien précis , j'aime être surpris . Mais il est vrai que j'ai envie d'ecouter de nouveau Troy Von Balthazar, les Posies , Grandaddy et aussi Daria ( Super groupe de Angers produit par Jay Robbins de Jawbox)

Pour suivre les news de rock indé, suivez Merseyside sur Facebook :