Beachwood Sparks – Desert Skies
Beachwood Sparks est un groupe californien qui a tout compris au rock ! Desert Skies, leur premier album écrit en 1997 qui n'avait jamais été publié, sort seulement en 2013. Et il n'a pourtant jamais paraît aussi ancré dans le temps.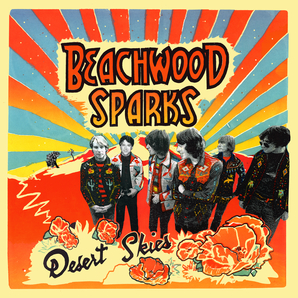 Desert Skies sonne déjà comme un bilan des 40 dernières années. Cet album qui a déjà 15 ans d'âge mais 1 mois de vie à l'air libre fleure bon tout ce qu'on aime, des Beatles à Tame Impala.
L'entrée en matière au titre éponyme fait sans doute partie des titres les plus accrocheurs et les plus réussis : ça commence comme du Teenage Fanclub avec des guitares bien rondes qu'on imagine pourtant presque country alors que la fin du morceau et son solo de guitare sur fond de tambourin et mur du son aurait pu aisément figurer sur Definitely Maybe d'Oasis. Les références vont bon train tout au long de l'album et dès Make It Together dont le chant se grefferait facilement à Eight Days A Week des Beatles, ce qui n'empêche pas de faire sonner certaines harmonies comme les débuts des frères White de Electric Soft Parade.
This Is What He Feels Like fait résonner le meilleur des années 70, avec une impro finale digne des Who ou de Led Zeppelin (bon ok on s'emballe un poil). Watery Moonlight (et ses claviers piqués à Surfin' USA des Beach Boys) ou Midsummer Daydream allient aisément les bruitages psyché sur fond d'ensemble des Kinks.
Les accalmies ne sont pas en reste entre Sweet Julie Ann, qui fait pourtant vite rugir les guitares sur fond de délires psyché, et Time qui sonne comme une pop song mélancolique parfaite (Just another way to say I love you… Just another way to say I'm sorry…) avant de révéler de bien belles harmonies alliant guitares et claviers psyché avec brio.
Ce Desert Skies sonne déjà, sinon comme un classique, comme un best of de pop music habilement ficelé pour mûrir encore en vieillissant. Un vrai coup de coeur 2013 !