The Raveonettes au Trabendo le 7 décembre 2012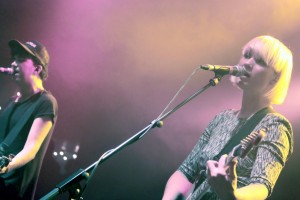 Le duo danois était de passage à Paris quelques mois après la sortie de leur sixième album Observator. Du shoegaze bien noisy comme on en voulait, lorgnant sur les traces de The Jesus And Mary Chain et autres My Bloody Valentine… au point de ressortir presque sourds !
Reverb & noisy
Début en Hallucinations, extrait de leur album assez noisy, Lust (2007) qui fait monter le suspens avec ce rythme qui gravit progressivement avant de déboucher sur un final noisy sur fond de batterie et voix à forte réverb. Ce sera d'ailleurs un bon résumé de l'ensemble de la prestation des danois : reverb et noisy tant les amplis semblent cracher tous leurs watts à en faire saigner les oreilles sur certains morceaux !
Distorsions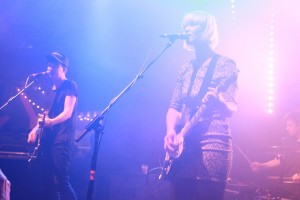 Mis à part She Owns The Streets, le début du concert est essentiellement constitué de tires de Lust avant d'arriver sur Curse The Night et son début à la Gorillaz qui vire façon Cocteau Twins. On est d'ailleurs surpris de voir que c'est en fait Sune Rose qui chante principalement sur ce titre, contrairement à ce que le disque laisse penser. Le duo parle très peu, enchaîne les morceaux. Le rythme reprend avec le très pop Gone Forever et plusieurs titres de Observator (The Enemy, Observations, Young and Cold) puis trois de leurs plus vieux morceaux extraits de Whip It On (2002) dont le très PJ Harvey My Tornado. Le set se termine avec le très bruyant Aly, Walk With Me sur fond de larsens et pédales de distorsions qui n'auront jamais aussi bien porté leur nom.
Pop songs et My Bloody Valentine
Le groupe revient pour un rappel en annonçant : « We gonna play some pop songs » en lançant Heart of Stone et son intro à la Electrafixion (un groupe passager -et assez moyen- de Ian McCulloch). Vient ensuite l'incontournable Love in A Trashcan puis un That Great Love Sound dévastateur. On est sonnés ! Sune Rose et Sharin Foo réapparaissent une dernière fois, surpris de leur succès pour finir très calmement avec Love Can Destroy Everything. Mais c'est trop tard, les Raveonettes ont aussi détruit nos oreilles… sans même qu'on s'en plaigne, bien au contraire. Cela faisait depuis My Bloody Valentine que ça ne nous était plus arrivé !
Petite déception cependant car on n'a pas eu quelques excellents morceaux récents, à savoir Bang!, Recharge & Revolt et Ignite. D'ailleurs, aucun morceau de l'excellent album Raven In The Grave sorti l'année dernière n'aura été joué ce soir. Next time.
Merci à Alex Gauer pour les photos !

Pour suivre les news de rock indé, suivez Merseyside sur Facebook :