Telekinesis – Effluxion – Power pop, Beatles et électro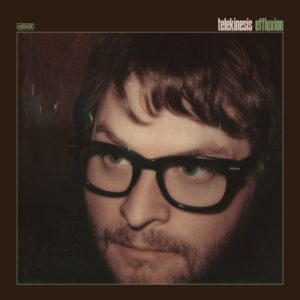 Telekinesis est le projet d'un natif de Seattle qui semble avoir grandi avec les Beatles et mis de côté ses expériences électro pour revenir à une power-pop parfois bien réussie.
Sorti le 22/02/2019 – Merge Records
Avec ses allures de Graham Coxon (guitariste de Blur) sur la pochette, on pouvait s'attendre à quelques influences rassurantes. Finalement, c'est plutôt du côté des Beatles ou de John Lennon qu'il faut aller chercher… mais pas que. En effet, How Do I Get Rid of The Sunshine ou l'inaugural Effluxion rappellent bien les compères de Liverpool, ce dernier titre qui vire à Elliott Smith quand la batterie s'intensifie.
Ce titre est très réussi et prouve une belle capacité d'un songwriting simple et plaisant doté d'une production bien dosée sur un album qui sait aussi trouver ses moments forts et dynamiques (le très électrique, quoiqu'un poil pataud, Feel It In Your Bones). Et ce sont en effet des influences très british qui viennent à l'esprit quand on écoute Telekinesis, pourtant natif de Seattle, avec notamment Cut The Quick qui semble tout droit sorti d'un album de Kasabian, le côté arrogant en moins.
Pour le reste, on alterne entre des morceaux bien rythmés (Set A Course et son côté très Car Seat Headrest) et quelques déceptions (Like Nothing, une voix parfois poussive, une basse pataude et un peu redondante sur un ensemble pas franchement très créatif).
A noter le final Out For Blood qui fait un peu ovni en fin d'album. Ce morceau aux airs vaguement électro fait un peu tâche et semble sorti d'un autre album ou d'une autre session d'enregistrement tant il semble détaché du reste de l'album. Sans doute un reste des diverses expériences électro du bonhomme ces dernières années ? Dommage.
Quelle bière boire en écoutant Effluxion de Telekinesis ?
Allez, on cherche quelque chose de sympa, pas toujours très fin, un peu déjà vu mais quand même sympa quand on la boit. Et bim, je vous présente… La Diôle Brune de la brasserie belge des Carrières et qui joue très bien ce rôle. Classique, assez ronde, un peu trop sucrée et pas toujours très délicate… mais correcte.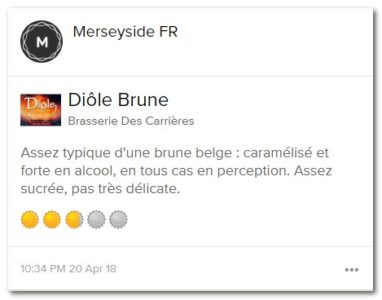 Pour suivre les news de rock indé, suivez Merseyside sur les réseaux sociaux :