Reformation de Nirvana en 2020 : hommage ou blasphème ?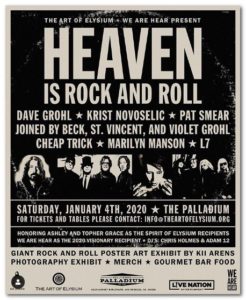 Le 4 janvier dernier, Nirvana se réunissait pour un concert. Ou plus précisément Dave Grohl & friends, à savoir les anciens membres de Nirvana Dave Grohl, Krist Novoselic et Pat Smear, guitariste additionnel pour la tournée de In Utero dès 1993, et sans doute quatrième membre permanent si le groupe avait continuer d'exister.
Parmi les autres amis : la chanteuse St Vincent, Beck, (l'artiste le plus touche à tout de sa génération ?) mais aussi Violet Grohl, la fille de Dave Grohl. Un concert pour la thune ? Pas vraiment, puisque c'est dans le contexte  d'un gala annuel pour l'ONG The Art of Elysium aux côté de L7, Marylin Manson et Cheap Trick que cette formation posthume de Nirvana s'est produite.
Au programme, 5 morceaux qui ont forcément fait réagir : Lithium (St. Vincent), In Bloom (Beck), Been A Son (Beck), Heat Shaped Box (Violet Grohl), The Man Who Sold The World (Beck). A noter que les vidéos du concert ne sont plus consultables en ligne. Question de droits ?
Reformation de Nirvana : hommage ou blasphème ?
J'ai vu un peu de tout sur les réseaux sociaux. Et je constate que les commentaires négatifs (très minoritaires) font en fait remonter la nostalgie ou la frustration de voir voler Nirvana en éclats en 1994. Alors oui, en 2020, on peut facilement critiquer sur les réseaux sociaux : Kurt est irremplaçable, Beck s'est foiré sur tel couplet, la batterie n'a pas le bon tome basse…
Personnellement, je trouve cette initiative assez cool. Le contexte caritatif de l'événement laisse assez peu de place à la cupidité que certains groupes pourraient convoiter. Et donc en quoi les anciens membres de Nirvana ne seraient-ils pas légitimes de reprendre les chansons de leur groupe en remplaçant leur défunt chanteur par des potes à eux ? Peter Hook fait bien des concerts de 30 titres avec du New Order et Joy Division, Paul McCartney chante des chansons créditées Lennon/McCartney ou même George Harrison (« Something »)…
A quand Dave Grohl et Paul McCartney ensemble ? Ah ben c'est déjà fait :
Nirvana, pour la postérité via la nouvelle génération
Donc non, la reformation occasionnelle de Nirvana ne me choque pas. Cela était déjà arrivé, notamment en 2014 quand Nirvana est entré au Rock and Roll Hall of Fame ou en 2018 au festival CalJam avec John McCauley du groupe Deer Tick à la voix, excellent dans l'interprétation, à la limite du plagiat/sosie vocal.
Comme le signalent certains commentaires, Nirvana aurait pu se réunir sous cette formation, remplir des stades et se faire un paquet de pognon. Visiblement, Grohl, Novoselic et Smear préfèrent jouer la carte du concert occasionnel, sans doute plus pour le plaisir qu'un véritable fond de commerce. Et le fait de voir Violet Grohl, 13 ans, interpréter des chansons de Nirvana est plutôt un joli signe de transmission et de justement faire exister Nirvana avec la nouvelle génération. Dave Grohl a d'ailleurs déjà fait monter plusieurs fois ses filles sur scène, notamment sa fille de 8 ans, Harper, lors d'un festival en Islande.
Et comme le dit lui-même Dave Grohl, « This is the next generation ». La dernière Grohl, Ophelia, née en 2014, devra attendre encore un peu.
N'en déplaise aux grincheux qui imaginent ou déplorent déjà d'autres concerts avec Kurt en hologramme (non non, ce n'est pas prévu), je trouve cette reformation occasionnelle franchement très cool.