Raoul Vignal – Oak Leaf – Justesse et équilibre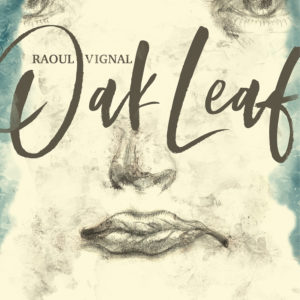 Raoul Vignal | Oak Leaf | Talitres (16/11/18)
Raoul Vignal s'est fait remarquer en avril 2017 avec The Silver Veil, son premier album justement salué par la critique. Un folk très pur, sobre et sincère qui révélait un beau jeu de guitare acoustique et des compostions délicates. Oak Leaf sort légèrement de ce schéma et montre une progression musicale vraiment intéressante. On reste dans un environnement très acoustique et délicat, mais plus rythmé. Sur The Silver Veil, la batterie se faisait très rare. Sur Oak Leaf, elle est présente sur presque tous les titres et vient appuyer sur les rythmes lancinants des compositions. Ce qui m'a captivé sur cet album, c'est justement la justesse et le superbe équilibre de l'ensemble. L'univers est feutré, délicat, parfaitement dosé : un shaker discret par ci, des cuivres aux jolis harmonies parfois dissonantes par là. The Dream ou No Faith en sont de bons exemples.
L'enregistrement et le mastering sonnent très bien. La voix murmurante de Raoul Vignal est parfaitement intégrée aux compositions, à écouter soigneusement avec une bière au coin du feu.

Cet album me rappelle deux autres productions françaises à écouter de près : l'album Tornado de Reza (découvert sur cette superbe compilation en hommage à Morrissey) ou encore Garciaphone que j'ai déjà couvert d'éloges l'année dernière. Cette année, les éloges passeront de Clermont-Ferrand (Garciaphone) à Lyon (Raoul Vignal).
>>>Jusqu'au 1/12, profitez de 10% de réduction sur l'album de Raoul Vignal avec le code MERSEYSIDE en le commandant sur ce lien.
Quelle bière boire en écoutant Oak Leaf de Raoul Vignal ?
Talitres, le label sur lequel est signé Raoul Vignal, a eu la bonne idée d'associer l'album à la brasserie bordelaise Les Bières du Carrelet. Un pari fort dans une région (Bordeaux) où le vin est roi. Tout ça sera justement fêté le 29 novembre à Bordeaux et le 30 à Paris lors de deux showcases.
N'ayant pas pu les goûter, je vous propose une autre association avec la Mets de la brasserie estonienne Põhjala (prononcer « Poyala »). Certes, j'ai bu cette bière à Lyon il y a peu, et Roul Vignal est de Lyon. Mais surtout, c'est une Black IPA qui m'a complètement réconcilié avec le style. C'est assez dense, noir et caféiné, avec cette touche délicate de floralité du houblon qui vient en opposition au café. C'est un peu ça chez Raoul Vignal : sombre et triste au premier abord, et pourtant avec une douceur, un apaisement délicat dans un ensemble inventif.
La Mets est assez difficile à trouver (même si on me glisse dans l'oreillette que vous en trouverez ici) . Pou ceux qui en ont dans leur ville, vivez l'expérience en live et ruez-vous chez Berthom pour la goûter. L'ambiance musicale sera plus musclée (mais très respectable), mais vous permettra de la goûter rapidement.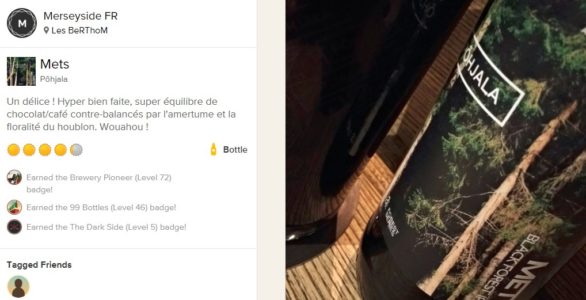 Pour ceux qui cherchent quelque chose de plus consensuel, prenez une Corsendonk Dubbel, ou une Straffe Hendrik Brugs Quadrupel. Et si vous avez l'appel de la Russian Imperial Stout, ça ira très bien aussi, tant que vous consommez tout ça avec modération.