4 places à gagner pour The Dodoz, Kid Bombardos et Housse de Racket le 1er juin à La Cigale [concours terminé]
Alias et Merseyside.fr vous font gagner des places pour le concert de The Dodoz, Kid Bombardos et Housse de Racket vendredi 1er juin à La Cigale dans le cadre du festival Les Envolées.
Les Dodoz, c'est un combo toulousain dont la démo qui figurait sur la compil CQFD des Inrocks se retrouve entre les mains du producteur Peter Murray. Premier album en 2009 dans la lignée des Babyshambles, Stereophonics et autres Franz Ferdinand dont ils assureront les premières parties et se forgeront une belle réputation de scène.
Leur deuxième album Forever I Can Purr sort le 4 juin avec Mike Crossey à la production (Arctic Monkeys, Foals). A surveiller de très très près !
Vous retrouverez aussi Kid Bombardos, excellent groupe bordelais dans la lignée des Strokes ainsi que Housse de Racket, duo électro-pop qui vous fera déhancher sans difficulté.
Festival Les Envolées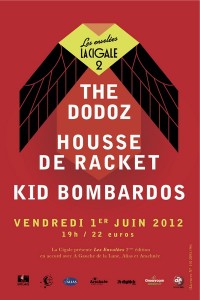 Suite au succès de la 1ère édition des Envolées, initiée le 16 septembre 2011 avec The Toxic Avenger, Nasser et Anoraak, La Cigale a le plaisir d'annoncer la 2ème édition qui se déroulera 
le vendredi 1er juin 2012
.
Rappelons le principe : faire la courte échelle à la scène ascendante en permettant une exposition et une audience plus importante constitue le socle du concept des Envolées de la Cigale. La Cigale se positionne, le temps d'une soirée, comme producteur et souhaite offrir une vitrine prestigieuse aux artistes de demain.
La première édition mettant en scène l'électro-rock français a démontré tout l'intérêt d'une telle démarche. Le public a largement répondu présent et l'événement a bénéficié d'une belle couverture médiatique. 
La seconde édition proposée ici fera la part belle aux guitares et aux prometteurs combos pop rock sur lesquels il faudra compter à l'avenir !
Le concours
Un tirage au sort élira 4 gagnants qui seront prévenus jeudi 30 mai par mail. Attention, le concours se termine jeudi 30 mai à 11h00. Ne participez que si vous êtes sûr de pouvoir venir. Les gagnants figureront sur la liste Alias à l'entrée du concert.

Pour suivre les news de rock indé, suivez Merseyside sur Facebook :