Ought – Room Inside The World – Destructuré et inventif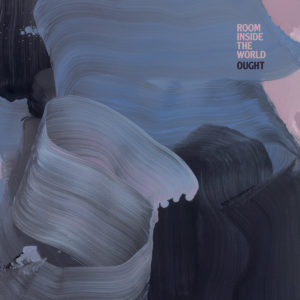 OUGHT – Room Inside The World – Merge Records / 16 février 2018
Ought est un groupe canadien assez sombre qui s'ouvre à un style un peu plus accessible sur son troisième album très réussi. 
Ought hors des sentiers battus
Ought, c'était jusqu'alors deux albums assez noirs, pas faciles d'accès, mais à l'identité bien trempée, notamment avec le timbre de voix singulier de Tim Darcy. Room Inside The World marque un tournant avec un style un peu plus pop dans l'approche. Pourtant, les compositions de ce nouvel opus confirment la capacité du groupe à sortir des sentiers battus. Dans cet album, rien n'est linéaire et c'est foutrement bien gaulé. L'introductif Into The Sea annonce d'emblée la couleur : dissonances, voix habitée, rythme oppressant. Pas de couplet/refrain. L'album ne suit pas toujours cette tendance mais démontre la volonté du groupe à ne rien offrir sur un plateau.  Même Brief Shield qui s'annonce comme une balade mélancolique vire vers univers plus expérimental, mais avec lequel j'ai immédiatement accroché.
Arrangements insolites
Certains morceaux s'affichent plus dansants, à l'instar de These Three Things et son côté électro minimaliste. Et pourtant, même sur ce qui paraît simple, les arrangements sont vraiment insolites. Sons étranges, violon, percussions diverses finement clairsemées donnent à la plupart des compositions une saveur particulière et une personnalité propre à Ought.
Perte de repères
L'album monte en progressivement vers des structures vraiment singulières. Take Everything est un bon exemple, alternant entre rythme binaire et refrain à presque trois temps telle une valse. Tout est pris à contre-pied. Si le début pourrait presque s'apparenter à une chanson des Smashing Pumpkins, la suite vire en ensemble déjanté où l'on perd ses repères. Quelques morceaux comme Disaffectation ou Disgraced in America (qui sonne très Strokes, période Room On Fire) semblent malgré tout attirer facilement le chaland avant de l'embarquer dans leur univers sonore.
Alors que les deux albums précédents semblaient réservés aux initiés un peu torturés, Room Inside The World affiche ses ambitions d'ouverture tout en gardant l'ADN d'un groupe singulier qui tient à sa personnalité. L'album du mois de février, sans aucun doute.
Ought en concert
Le 26 Avril à Paris, la Maroquinerie – FB event
Le 27 Avril à Nantes, Stereolux – FB event
Le 28 Avril à Bordeaux, Iboat – FB event
Quelle bière boire en écoutant Room Inside The World ?
Avec cet album riche en structures déjantées et inattendues, il faut une bière avec du caractère. L'idée d'une brune s'est imposée presque automatiquement, et je cherchais quelque chose d'assez marqué. La Wynona's Big Brown Ale de la brasserie américaine Voodoo Brewery remplit très bien ce rôle. Avec son côté très malté, on a la rondeur qui permet une approche en douceur. Ses quelques notes de chocolat appuient la rondeur, l'amertume est légère et c'est plutôt la décharge de malt (donc rond et un peu sucré) qui prend le dessus avec une très légère touche caféinée. A noter que cette bière fait référence à la chanson de Primus Wynona's Big Brown Beaver.
Pourquoi de la bière sur Merseyside.fr ? Parce que c'est une de mes autres passions en plus de la musique, et que je trouve qu'il y a des associations vraiment intéressantes à faire entre bière et musique. Associer une bière à un album et inversement. La bière de dégustation est en plein essor, je ne peux que vous encourager à challenger vos papilles. Avec modération évidemment, on parle de dégustation. 
Pour suivre les news de rock indé, suivez Merseyside sur les réseaux sociaux :