Fanfarlo – Let's Go Extinct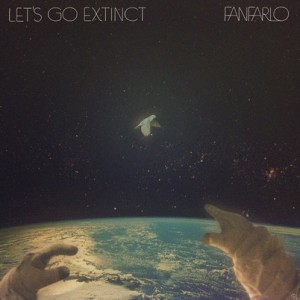 Une pochette à la Gravity, l'ombre d'Arcade Fire et de Guillemots, le tout sur un album parfois folk et surtout dansant. Le quintette anglais nous livre une belle surprise.
Voilà un album qui aurait pu passer complètement inaperçu, mais parvient à se frayer un chemin dans ces disques de la nouvelle année !  Sans avoir réellement accroché (et peu écouté il faut avouer) le reste de la discographie du groupe, je me suis laissé happer par cet album entraînant et assez bien foutu.
Le titre inaugural de plus de 6 minutes est assez révélateur : pas forcément accrocheur, mais pourtant on a du mal à zapper. Certains ressentront cette sensation sur l'ensemble de l'album. L'ombre de Fyfe Dangerfield et son groupe Guillemots plane également sur ce très bel album. (Cell Song, We're The Future, Painting With Life). Les très dansants Distance, Landlocked et The Grey And Gold avec ses cuivres de western spaghetti font plus que jamais planer le fantôme d'Arcade Fire. Faut-il s'en plaindre ? Honnêtement, non. On retiendra un album surprise franchement réjouissant et largement assez consistant pour nous faire une bonne partie de l'année 2014.
Retrouvez Fanfarlo dans notre Playlist de février 2014.

Pour suivre les news de rock indé, suivez Merseyside sur Facebook :
http://www.facebook.com/merseysideband