Car Seat Headrest, 22 ans et biberonné à Pavement, Pixies, The Strokes…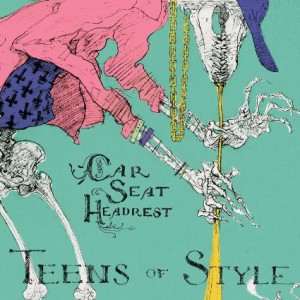 Et voilà que débarque Car Seat Headrest un jeune de 22 ans qui a déjà enregistré 11 albums et réunit le meilleur de l'indie-pop américaine. On valide !
Récemment signé sur l'excellent label Matador, Car Seat Headrest est le nom du projet d'un certain Will Toledo qui a déjà une sacrée expérience. 22 ans et déjà 11 albums à son actif tous auto-produits et diffusés sur Bandcamp, plus de 25 000 téléchargements et une impressionnante fan base constituée sans l'aide de personne. Et bim.
Pavement, Pixies, The Strokes…
Le premier album Teen of Style sorti fin 2015 est une compilation retravaillée des ces 11 albums précédents, et le premier sous forme de groupe. Encensé par divers médias américains (Pitchfork, Rolling Stone), l'album oscille entre les meilleures références de la scène underground : Pavement (Strangers) , Pixies (The Drum), The Strokes (Something Soon) parfois du My Bloody Valentine à la sauce DIY (Sunburn Shirts). Tout ce petit monde a été bien accueilli par la critique, on le comprend aisément.
Un nouvel album, Teen of Denial, est prévu pour 2016, cette fois enregistré de façon classique en studio. On s'en réjouit d'avance !
Pour suivre les news de rock indé, suivez Merseyside sur les réseaux sociaux :