A gagner : 2×2 places pour la release party de Bootchy Temples à la Mécanique Ondulatoire (Paris) le 5/5/17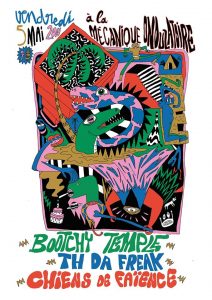 Voilà la soirée baba cool du mois de mai ! Ambiance slacker tranquilou sur riffs de guitares claires et chaudes, voilà le programme de cette soirée à la Mécanique Ondulatoire. Howlin' Banana et Merseyside vous offrent 2×2 places.
C'est psyché, ambiance 80's aux Etats-Unis, on sent les fleurs et les oiseaux qui frétillent, les bulles magiques et toute cette bonne humeur printanière. Les mecs viennent de Bordeaux mais n'ont pas peur de nommer leurs titres Space bubble ou The Flying Woman And Her Secret Pact With The Wind. Le décor est planté et leur premier album sort en collaboration Howlin Banana et Hellzapoppin Records.
Les bordelais seront accompagnés de Th Da Freak, un autre bordelais signé chez Howlin' Banana et les parisiens de Chiens de Faïence.
Tous les détails sur l'event Facebook
Pour suivre les news de rock indé, suivez Merseyside sur les réseaux sociaux :