POND – Tasmania – Psyché inégal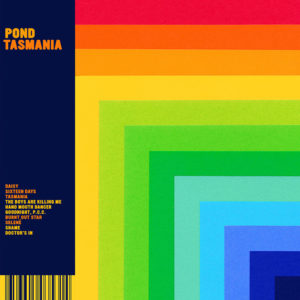 Huitième album pour le groupe australien qui continue ses expérimentations psychés sur un album parfois plaisant, mais trop inégal.
Sorti le 1/03/2019 – Marathon Artists
POND fait partie de ces groupes australiens qui ont su se faire un nom, malgré l'ombre de leurs potes Tame Impala (dont la plupart jouent aussi dans POND). Et mine de rien, le groupe en est à son huitième album en 11 ans de carrière, n'hésitant pas à s'aventurer dans des styles différents, même si une (sérieuse) touche de psyché reste quand même la marque de fabrique du groupe. Avec Tasmania, POND continue ses aventures psyché sur un album que j'ai trouvé franchement inégal. Alors oui ça fonctionne bien sur des morceaux comme Daisy, qui a été choisi comme single malgré ses 6 minutes.
Ca m'a d'ailleurs rappelé les (bons) morceaux de MGMT, référence à laquelle j'ai souvent pensé sur cet album. Par exemple sur Selené avec son côté cinématique, entre Air et MGMT et son solo façon Pink Floyd. Mais j'ai souvent été perdu dans des nappes de synthé (Good Night PPC), dans des délires très aériens qui ne décollent pas (Shame) ou simplement une sorte de calme plat qui ne m'embarque pas, même quand ça décolle au bout de 6min30 (Burn Out Stars).
Mais il faut aussi savoir patienter, exemple sur Doctor's In qui une fois lancé au bout de 3 minutes embarque dans son côté désuet 60's/70's façon générique de The Persuaders (Amicalement Vôtre en français).
Quelle bière boire en écoutant Tasmania de POND ?
Pour le côté psyché et planant, je recommande une bière bien forte, à boire en douceur. Comme la Long Time No See de la brasserie danoise To Øl qui affiche quand même 12,8°. Il faut y aller tout doucement, bien se réjouir d'abord du nez de fruits rouges, fruits macérés, sous-bois. Déjà on sent qu'il faut y aller doucement, et que les 48 minutes de Tasmania seront tout à fait adaptées. En bouche, on a une explosion de houblon, c'est amer avec un côté aussi très caféiné. C'est très intéressant. A boire en douceur, et avec modération.
Pour suivre les news de rock indé, suivez Merseyside sur les réseaux sociaux :