Pavement offre un Best-of et un concours
Le groupe lo-fi américain Pavement avait annoncé en fin d'année 2009 sa reformation. Une fois la vague d'émotions passée, le groupe annonce la sortie d'un best-of de 23 titres remasterisés avec un concours amusant à la clé.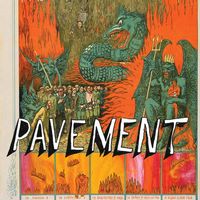 On était prêts à vous révéler le track listing de ce best-of, mais voilà que la bande à Stephen Malkmus en décide autrement en proposant un concours amusant, le « Guess The Track Listing Contest » ! Vous avez deviné, le principe est simple, il faut deviner les titres dans l'ordre, sachant que le premier morceau est Gold Soundz (disponible en téléchargement légal et remasterisé sur ce lien). Avis aux âmes inspirées… et aux chanceux !
Les prix
Premier prix : il sera décerné à celui ou celle qui trouvera le track listing le plus proche de la version qui sortira le 1er mars 2010. L'heureux gagnant se verra offrir deux billets avec le vol et la chambre d'hôtel pour aller voir Pavement à Central Park le 21 septembre 2010 ! Et accessoirement un coffret vinyle du groupe.
Deuxième prix : décerné au track listing le plus imaginatif (euh… c'est pas un peu subjectif ça ?), le gagnant verra sa sélection publiée sous forme d'un double LP vinyle en édition limitée et en recevra 5 exemplaires, en plus du coffret vinyle.
Quatre prix seront également décernés dans l'une ou l'autre catégorie et gagneront le coffret vinyle.
Comment participer ?
Pour proposer les morceaux de Quarantine The Past, il vous suffit de cliquer sur la pochette ci-dessous et de noter vos morceaux. N'oubliez pas que le premier est Gold Soundz. A vous de jouer !
Et bien sûr, Pavement sera au Zénith de Paris le 7 mai 2010, seule date en France. Il reste encore des places, ne traînez pas !
Et n'oubliez pas de rejoindre Merseyside sur Facebook pour plus de news rock !