Niko Yoko – I love N.Y – Indie pop, du Velvet à Jesus & Mary Chain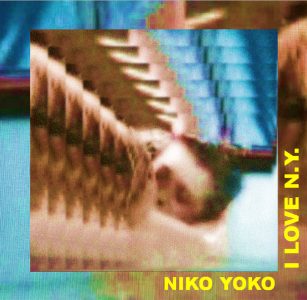 Tout juste 20 ans, et pourtant les 4 potes de Niko Yoko ont été autant marqués par l'album Revolver des Beatles que la vague shoegaze emmenée par Ride. Un concentré de tomate, de pop et de rock. C'est par ce melting pot d'influences de Jesus & Mary Chain à la twee-pop écossaise en passant par Oasis, les Boo Radleys et le Velvet Underground que Niko Yoko défend son répertoire dans la pure tradition indie-pop à base de riffs accrocheurs et second degré dévastateur. Appelez la police !
Revival indie pop qui a tout pour plaire
Il faut avouer qu'il y a tout de même un problème avec Niko Yoko : celui qui n'a pas vibré au son du Velvet, qui est passé à côté de Psychocandy ou Darklands de Jesus & Mary Chain et qui ne s'est jamais reconnu chez les frères Gallagher risque de ne pas s'y retrouver. Ce n'est pas vraiment un problème quand cet ADN vous fait vibrer depuis que vous avez étalé votre purée dès l'âge de 4 ans sur les vinyles de Papa ou que vous que vous avez sillonné les routes de votre grand frère en pleine vague shoegaze. Partant de là, ce revival indie pop (certes un peu daté) a tout pour vous faire replonger comme en 40 (ou en 90 plutôt).
Bien gaulé !
Pour les autres, ça sonnera en effet comme un groupe anglais qui digère plutôt bien l'héritage de ses pères spirituels. Sauf que voilà, nos trublions sont français, et ça fait quand même plaisir de se dire que ces gamins ont tout pigé au songwriting indie pop dans son plus pur exercice. Pas de fioritures, pas de procédés d'enregistrement douteux dans le seul but de se faire de la thune. Non, les gars de Niko Yoko ont mis leurs tripes et leur pognon pour se donner à fond. Avec une pointe de talent aussi.
L'ensemble reste assez basique, mais on peut le dire sans détours : c'est super bien gaulé ! Tout fonctionne très bien, il y a une spontanéité qui marche toute seule. Casual Friday a par exemple une structure vue et revue (au hasard, The Two of Us de Jesus & Mary Chain dont le refrain a la même structure, ou plus ancien, le refrain de All Around The World d'Oasis), mais ça marche tout seul. Et non, sa basse n'est pas piquée à Mirwais sur Naive Song !
Sunday Girl exhibe ses jolis arpèges de guitare en fond sur une touche de synthé discret qui arrive à point nommé. La cassette C86 n'est pas très loin…
Sun Down affiche un joli son de guitares (qui mériteraient d'être encore plus noisy à mon goût), avec un final plus « fuzz » et de jolis contre-temps sur la batterie. Avec quelques « shoowap-shoowap » de circonstance.
Alors oui tout ça est sans doute encore un peu bancal, un peu fragile. Oui la marge de progression est encore large. Mais tant mieux, car les bases sont là. The Jesus & Mary Chain ont tout juste signé leur grand retour, leur notoriété d'antan faisant le travail de promo. Tant mieux. Chez Niko Yoko, il reste tout à écrire, mais ils peuvent sans vergogne se compter dans le digne héritage des frères Reid. Chapeau !
Le groupe n'a ni label, ni tourneur, ni agence de booking. Bref, les débuts. Avis aux amateurs !
Niko Yoko sur la toile :
https://nikoyoko.bandcamp.com
https://soundcloud.com/nikoyoko
https://www.facebook.com/nikoyokoband/
Pour suivre les news de rock indé, suivez Merseyside sur les réseaux sociaux :