Fools Ferguson – Dead Lines – Héritage british et prises de risque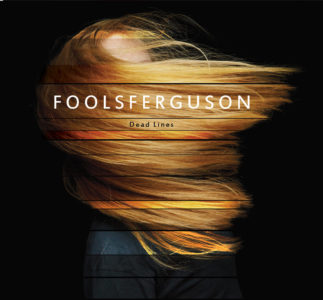 Fools Ferguson est un groupe originaire de Boulogne sur Mer qui vient de sortir son premier album, après quelques EP réussis. En dignes héritiers de groupes anglo saxons comme Echo & The Bunnymen, les La's ou Ride, Fools Ferguson livre un premier album très abouti et prometteur.
ADN et identité musicale
Il était intéressant de suivre l'évolution d'un petit groupe qui défend son ADN et cherche son identité musicale. Pas au niveau des compositions ou de l'esprit, mais au niveau su son. Car Fools Ferguson a sévèrement bataillé pour trouver le son qui lui convenait (lire l'interview). Après différentes pistes (dont Mark Gardener de Ride), le groupe a finalement autoproduit son album pour restituer le son précis qu'il avait en tête. Il en résulte un album bien travaillé, aux ambiances insolites, aux sons de guitares langoureux. En 8 titres et 45 minutes au compteur, Fools Ferguson a vraiment un son dans lequel il faut se plonger.
Fools Ferguson a franchi a un cap
L'entrée en matière est révélatrice de la puissance sonore et des ambiances : Altered States commence sur une batterie lourde et profonde, allié à des guitares puissantes desquelles on parvient à extraire toute de même une guitare acoustique, auxquelles vient se greffer un synthé que l'on retrouvera sur pas mal de morceaux. Très vite, on est surpris par la tournure du morceau qui vire en vaisseau spatial électronique, appuyé par une grosse caisse oppressante. Le groupe a clairement franchi un cap.
Héritage anglo-saxon
C'est d'ailleurs le sentiment global qui se dégage de Dead Lines qui repose sur des moments forts comme Altered States, et d'autres qui semblent plus légers, et pourtant finement travaillés. L'héritage anglo-saxon est très présent, sans pour autant plagier. The Black Star and The Yellow King et son intro guitare/basse/batterie très Echo & The Bunnymen, Crystal Castles et ses jolies guitares façon the Smiths (les synthés en plus), avec un refrain très pop et son final super noisy, Something Outside et sa basse qui semble sorties de Sensitive de The Field Mice. Un titre qui affiche fièrement ses 8 minutes, transporté dans un univers de pop noisy mêlé d'un long passage expérimental où les guitares cristallines résonnent parfaitement.
Fools Ferguson, un groupe qui a une éthique
Ce qui me plait dans ce projet, c'est que le groupe s'est affranchi des codes du groupe qui cherche à percer : Fools Ferguson a décidé de ne pas travailler avec Youth (The Smiths, Cure) ou Mark Gardener (Ride) à la production pour forger le son qu'il leur fallait. De la même façon, le groupe n'hésite pas à imposer trois morceaux de 8 minutes sur un premier album. C'est courageux, mais surtout sincère et cela permet de rentrer dans un univers qui leur est propre. Chose rare également, l'ordre des morceaux varie entre la version digitale et la version CD. Les nordistes ont bien compris que le contexte d'écoute n'est pas le même, et il s'y est adapté. Chapeau.
Pour suivre les news de rock indé, suivez Merseyside sur les réseaux sociaux :