3×2 places à gagner pour The Telescopes et One Unique Signal le 8 septembre 2012 à La Flèche d'Or [concours terminé]
Le groupe anglais The Telescopes revient pour une date unique en France le 8 septembre 2012 à la Flèche d'Or. Alias et Merseyside.fr vous font gagner 3×2 places pour ce concert de rentrée. A vous de jouer ! Fin du jeu le 26 août à minuit.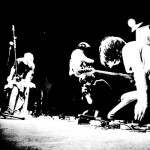 Le groupe a émergé en Angleterre à la fin des années 80 au milieu de la scène shoegaze sous la houlette du chanteur/guitariste Stephen Lawrie. On compare très vite le groupe à The Jesus And Mary Chain ou encore Spacemen 3. Leur premier album sort sur le label américain What Goes On mais le groupe se retrouvera vite chez Creation Records, le célèbre label créé par Alan McGee où le son deviendra plus baggy, dans la lignée de Ride ou des Charlatans.

Pour suivre les news de rock indé, suivez Merseyside sur Facebook :