Live Report – Stone Roses à La Cigale le 4 juin 2013
Deuxième concert consécutif des Stone Roses à La Cigale, on y était aussi ! Récit d'une prestation beaucoup plus aboutie et réussie que la veille, en mode immersion totale au coeur de la fosse !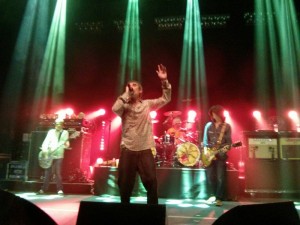 Concert complètement différent de la veille pour deux raisons. La première : un groupe plus rodé, un set en place, un son maîtrisé dès le départ, et presque aucun écart de justesse de Ian Brown ! La deuxième : on a vécu le concert au deuxième rang, au milieu des anglais dégoulinants de bière et de sueur. Forcément, ça change !
Le set commence par I Wanna Be Adored, transformant la fosse en un véritable trampoline, avec un mouvement de foule radical vers l'avant de la scène. Pas de doute, on y est !!! Tout le concert sera à peu près comme ça, même sur les chansons calmes où les anglais semblent revivre l'effervescence de Spike Island ou Blackpool ! Le public chante plus fort que Ian Brown, ce qui explique que l'on n'ait peut-être pas entendu les écarts de justesse. La déferlante continue sur Elephant Stone, certains n'en reviennent pas d'entendre ce titre qui n'avait plus été joué en live depuis 1990 ! Ten Storey Lovesong retentit comme un hymne éternel devant un public qui fait passer La Cigale pour Maine Road ! Les anglais sont déchaînés, on se prend de bières sur la gueule, des anglais bourrés qui slament, des mecs torse nus luisant de bière et de sueur, des accolades avec des inconnus qui te prennent dans leur bras tellement leur enthousiasme est débordant. Bref, un concert à l'anglaise ! Ces mêmes anglais hallucinent d'être aussi proche de la scène, chose presque impossible dans leur pays natal, les Stone Roses se produisant presque toute le temps devant plus de 50 000 personnes !
La setlist sera identique à la veille, avec un Fool's Gold de 10/15 minutes détonnant, John Squire maîtrisant parfaitement ses riffs uniques. Mani jubile, le sourire aux lèvres sur ses basses joliment décorées (ambiance psyché ou blanche à pois de couleur). Ian, quant à lui, n'a rien à faire pour avoir un public dédié à sa cause. Le Godlike Genius n'a qu'à se trémousser pour créer l'hystérie et une admiration sans borne des fans. Waterfall déchaîne les foules, John Squire nous lâche son petit riff de Day Tripper bien calé comme prévu au milieu.
She bangs The Drums, comme la veille reste également un moment fort, parfaitement calé et ultra dynamique, avant de lâcher les riffs baggy de Love Spreads qui rappellent évidemment l'esprit dansant de Madchester ! Reni est parfaitement en place, accompagnant John avec beaucoup de subtilité. La fin du concert approche autant que les hymnes s'enchaînent : This Is The One et Made of Stone nous offrent un moment unique, avec une fosse qui ressemble à une patinoire de bière ou à un festival anglais sous la pluie ! Contrairement à la veille, on a le droit à un Elizabeth My Dear repris en coeur avant de balancer Breaking Into Heaven (joué la veille pour la première fois en live depuis 1996), avant de laisser Reni se lâcher sur un solo pour d'enchaîner sur un I Am The Resurrection plus fédérateur que jamais ! Après 1h40 de concert, le public a rejoint son Mersey Paradise de la résurrection. Pas de doute, de tous les groupes anglais qu'il faut avoir vu dans sa vie, les Stone Roses : This Is The one !

Pour suivre les news de rock indé, suivez Merseyside sur Facebook :